Our annual Assistive Technology event that showcases new and emerging technologies for communication, access and inclusion will take place on Thursday 23 May 2019. There will be seminars, workshops and speakers plus our hall of exhibitors.

Communication Works 2018 has now expired

Thank you so much for putting on a brilliant day!
As a nearly newly qualified SLT it gave me a lot to think about, and it was so lovely to see students using their AAC so effectively.
Well done to everyone involved!
– C.Drapper, May 2018
Guest Speaker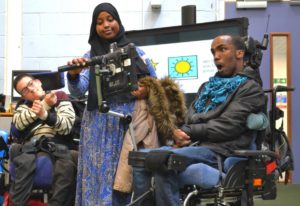 Our Guest Speaker was Abdi Omar – Youtuber. Husband. Comedian. Inspired to be the first Disabled Ambassador for #UnitedNations'
Youtube: www.youtube.com/user/ABDIOMARTV
CW2018 – Companies that attended
Below are the list of companies attending. Please note this list will be updated regularly.