Khamani interviews Paralympian Beth Moulam
Khamani interviews Beth Moulam, Paralympian, public speaker, social policy graduate and advocate for Augmentative and Alternative Communication (AAC).
CENMAC student ambassador Khamani recently had the exciting opportunity to interview Paralympian Beth Moulam. Beth represented Great Britain at the 2020 Tokyo Paralympic Games in the sport called Boccia.
Watch Khamani's interview with Beth
Khamani discovered that not only is Beth a Paralympian, but she is also a public speaker, a social policy graduate and a wonderful advocate for AAC and communication inclusion.
Beth has cerebral palsy and her speech is dysarthric. This means that her speech is slow due to muscle weakness and she can be difficult to understand, so she uses a range of assistive technologies to communicate.
Beth has not let her disability stand in her way and is determined to improve the lives of others.
She is currently studying for her Masters in Research, Social Policy as she believes changing current policy will help others to receive the support they need.
Beth has travelled all over the world for speaking engagements and workshops encouraging others to make their dreams a reality.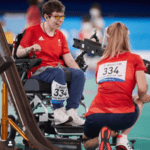 Competing at the 2020 Tokyo Paralympic Games in the sport called Boccia.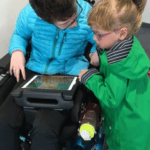 Beth showing a child how she communicates using her AAC device.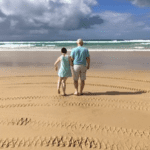 Beth on beautiful Fraser Island off the coast of Queensland in Australia.