CENMAC supports many children and young people to access the curriculum and/or to communicate using assistive technology. The following case studies show how using this technology can greatly improve their educational outcomes and life skills.
Using assistive technology to access the curriculum
Daisy is a chatty and bright sixteen-year-old, who has a diagnosis of ADHD and Autism. CENMAC has supported Daisy's learning since March 2020. This case study features interviews with Daisy's father, Kevin, her SENCO, Mrs Grace and her Advisory Teacher, Mary Long and our student ambassador Khamani also recorded a video interview with Daisy.
Using Eye Gaze
Myzat was referred to CENMAC aged 4 when she was in reception in a mainstream school. She has Spinal Muscular Atrophy Type 2 and is ventilator dependant. At the time of the assessment, she was loaned a laptop with switch access to Clicker 7 and put on the waiting list for a CENMAC eye gaze device. Her degenerative condition meant that she was already finding it difficult to use the switch, and this could only get worse as she got older.
Literacy support with an iPad
CENMAC has been the key in Rodney's progress for the past two years. They provide amazing modern technology for Rodney to be independent and confident in his school life. The skills that he is learning now will help him progress through his school journey and beyond.
Access via Head Mouse Nano
Cenmac has facilitated Hicham's use of a variety of technology. He has been provided with a Surface Pro and a Head Mouse Nano with Dwell software, which he states has been extremely useful 'for classroom learning, especially independent living skills, like typing, finding information and to skype, message friends via email and to communicate with teachers and other staff at school'.
Literacy Support using a tablet computer
The laptop has helped me in many ways: 'Being able to type my work up neatly. Save my work in one place. Write on it quickly and if I make any mistakes I can edit the work, presenting it neatly.
Accessing the curriculum
After a joint assessment, it was agreed that student O would use the CoWriter 7 word prediction software to support written recording and a Prodigi Connect 12 electronic magnifier. This device allows student O to capture images, magnify documents and have text read aloud using the text-to-speech function.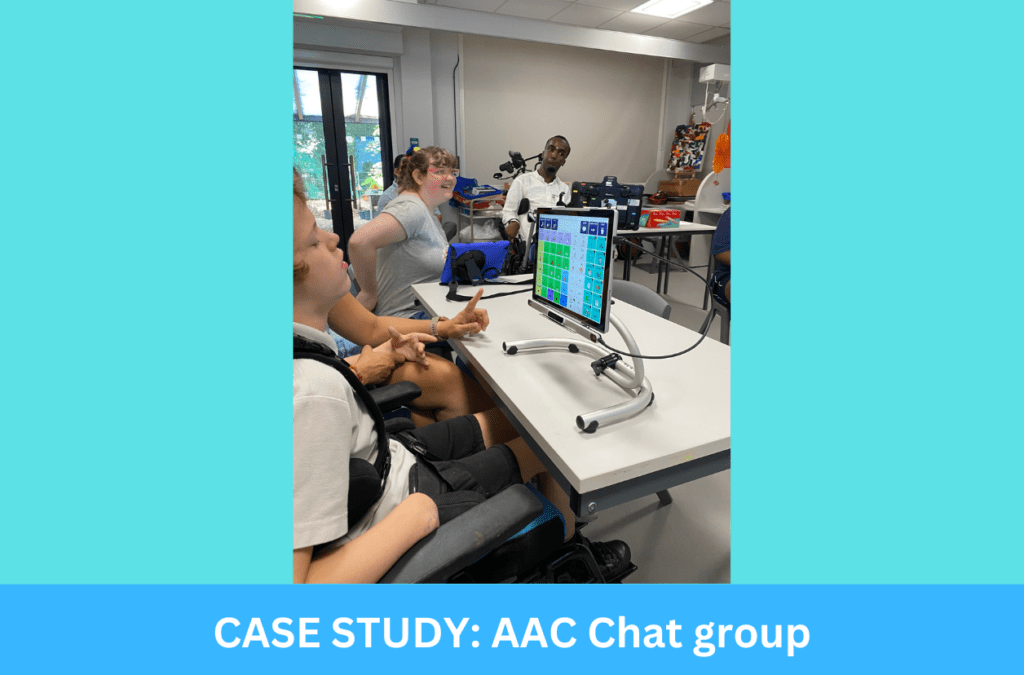 AAC Chat Group
Here at CENMAC we often support those pupils who are just starting out with AAC – Augmentative and Alternative Communication systems. We meet and work with a number of pupils both within mainstream and special education who can find their access to role models and peers who are using AAC very limited.