Spring Term 2023 Online Training
Online Training
Thursday Thirty free online training is running throughout the Spring 2023 term.
Join us at 15.30 to 16.00 (GMT) on Thursday afternoons to find out how a wide range of assistive technologies are used to support learning and communication.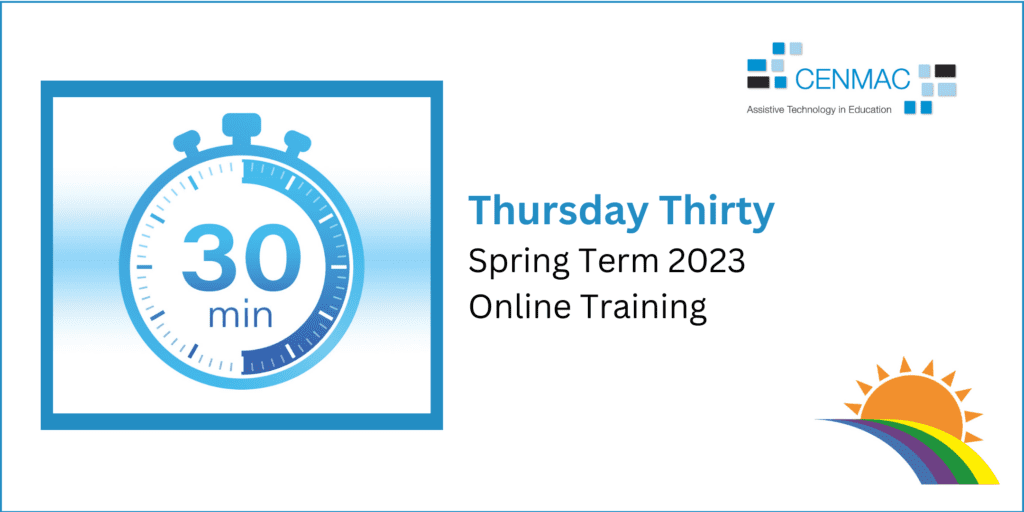 Take a look at the programme below and register to attend the sessions of interest to you.
Who should attend? Our training sessions are suitable for teachers, SENCOs, school SEND teams, TAs, Speech and Language Therapists and parents and carers supporting children and young people using assistive technology to access the curriculum and/or to communicate.
Training joining details
We will email you the Microsoft Teams joining details a couple of days before the training session so keep an eye out in your email inbox. Please check your spam or junk mail folder and contact Annabel at adent@cenmac.com if you do not have the joining details one day before the event.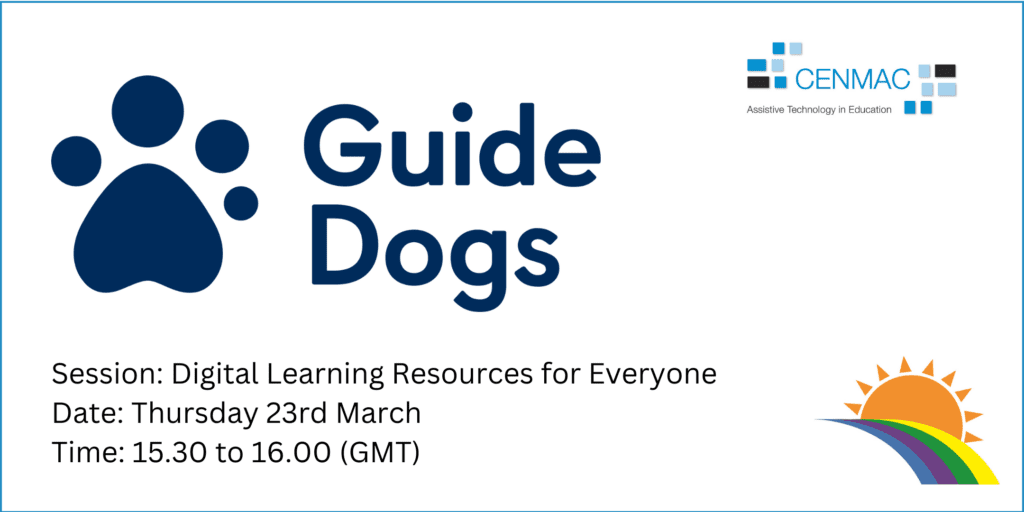 CENMAC's Thursday Thirty – Guide Dogs Digital Learning Resources for Everyone
Thu, 23 Mar 2023 15:30 – 16.00 (GMT)
Join Kerry Kernan from Guide Dogs to find out more about their 'Tech for All programme' and the wide range of services they provide for children and young people with a vision impairment.
She will talk about their commitment to support the accessibility of technology to children and young people with sight loss, including their digital learning programme and plans to build more content over time.
These fantastic resources are available on the Guide Dogs website, and free to access for all – children, parents, teachers – in fact, anyone with an interest in how to get the most from their devices.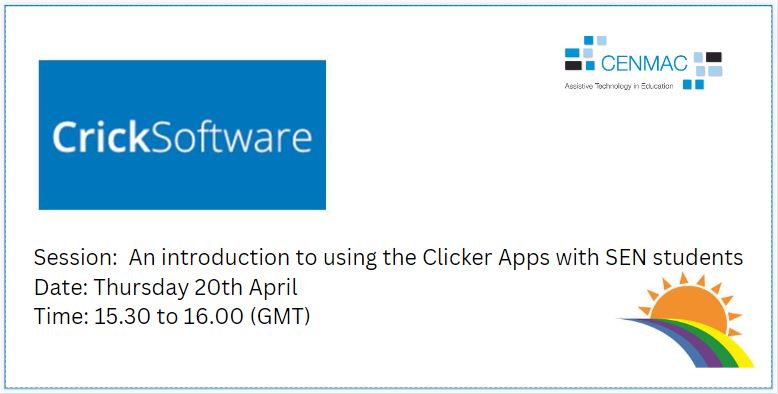 CENMAC's Thursday Thirty – An introduction to using the Clicker Apps with SEN students
Thu, 20 Apr 2023 15:30
During the session, Katie Fitch from CrickSoftware will be demonstrating the Clicker Apps for iPad and Chromebook and how they benefit the learning of SEN students.
She will explore core features of Clicker Writer, Clicker Books and Clicker Talk and explain how they support and enhance the learning process for SEN students.
If you have any changes in school and need training to implement the students' assistive technology please do get in contact with your advisory teacher or mail@cenmac.com.
Sign-up to our monthly enewsletter to stay informed about upcoming training events.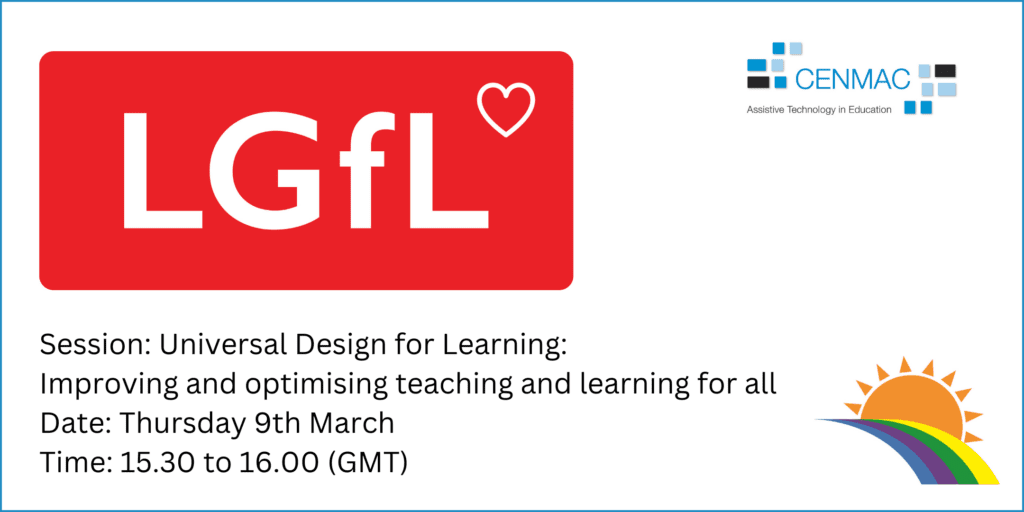 CENMAC's Thursday Thirty – Universal Design for Learning: Improving and optimising teaching and learning for all
Recorded: Thu, 9 Mar 2023
In this interesting online session John Galloway and Carol Allen, consultants to LGfL, will talk about – What Universal Design for Learning (UDL) is and why it matters for all teachers and learners.
They will offer examples of UDL in practice to demonstrate how theory translates successfully into improved outcomes for students.
John Galloway is an specialist in the use of technology to improve curriculum access and communication for learners with SEND. He has written several books and many articles, and spoken at conferences here and abroad.
Carol Allen is an education advisor for ICT and Inclusion currently supporting LGFL (London Grid for Learning) and previously, Hartlepool LA and North Tyneside LA. Carol is currently a member of the DfE Assistive Technology Expert Group; a BETT Awards Judge and is also a panel member and contributor to sessions at the House of Lords for the APPGAT (All-Party Parliamentary Group for Assistive Technology) committee.
Who should attend? Teachers (Primary/Secondary/SEND), Curriculum leaders, and Senior Leaders with responsibility for curriculum development and planning.
The recording will be available soon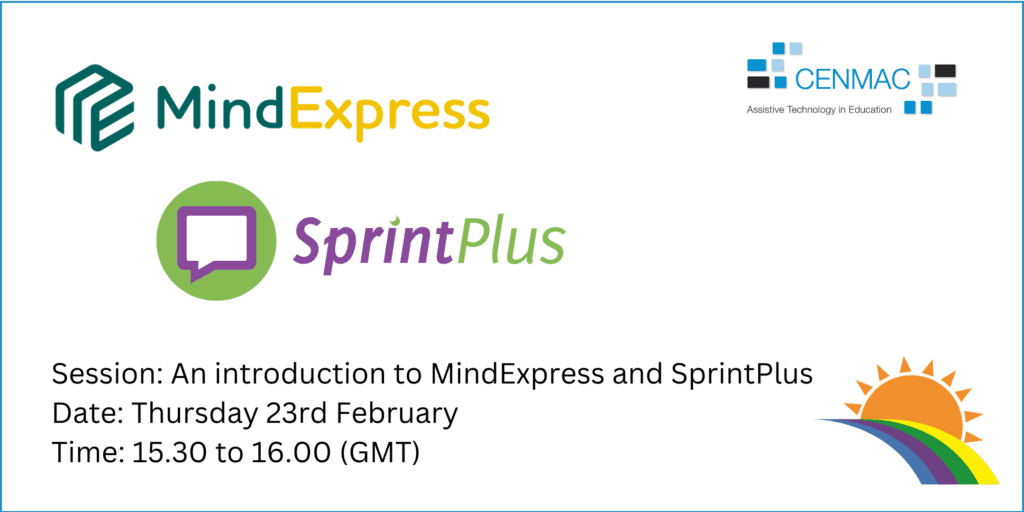 CENMAC's Thursday Thirty – An introduction to MindExpress and SprintPlus
Recorded: Thu, 23 Feb 2023
Join us for this session on communication software MindExpress and Sprintplus software to read out text.
MindExpress helps people with communication disorders learn to communicate independently using symbols and letters or a combination of both.
MindExpress can be used for emails, texting, calling and social media and environmental control (eg switching on lights) and is accessed with a touch screen, a mouse or trackball, a joystick, or switches, head tracking and eye gaze.
SprintPlus is a software package for people who have difficulty reading and writing. It can read out text and can help understand text.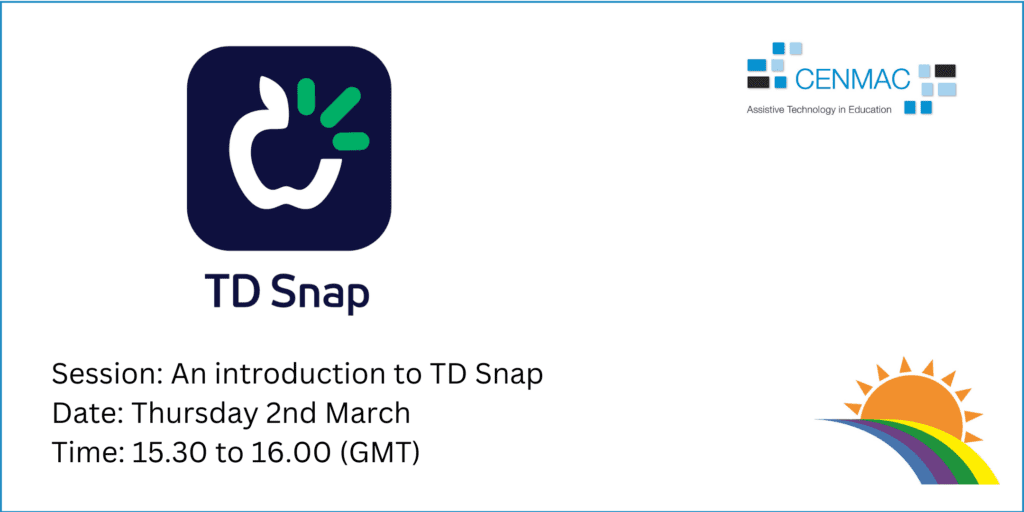 CENMAC's Thursday Thirty – An introduction to TD Snap
Recorded: Thu, 2 Mar 2023
In this 30 minute session, John Liddle from Tobii Dynavox will give us an introduction to TD Snap – the symbol based communication software for non-verbal learners.
The session will show how the TD Snap app for iPad or Windows can help to unlock the potential of many youngsters who are struggling to communicate.
John will give an overview of the vocabulary options for learners, demonstrate the incredibly easy editing/personalisation and also introduce some of the other powerful tools in TD Snap to really engage learners.
The recording will be available soon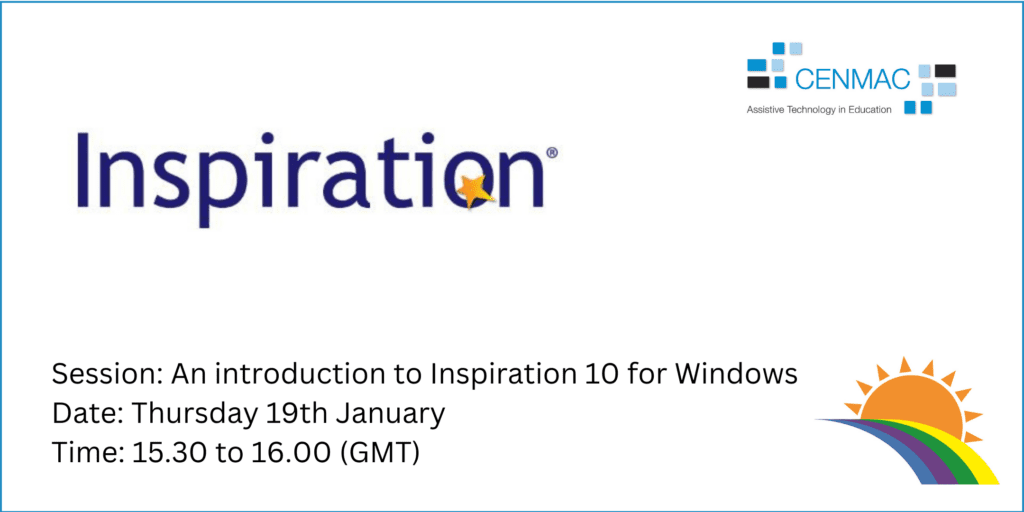 CENMAC's Thursday Thirty – An introduction to Inspiration 10 for Windows
Recorded: Thu, 19 Jan 2023
Inspiration 10 for Windows is a visual thinking tool used for creating mind maps, concept maps, graphic organisers, outlines and presentations with ease.
In this online session learn how the visual mapping tool makes it easy to:
quickly capture ideas and visually organise them
transfer a visual diagram to a written outline in just one-click
easily transfer diagrams and outlines to Word, PowerPoint, PDF, HTML or as graphics files or to export to Google Docs, OneNote and other apps.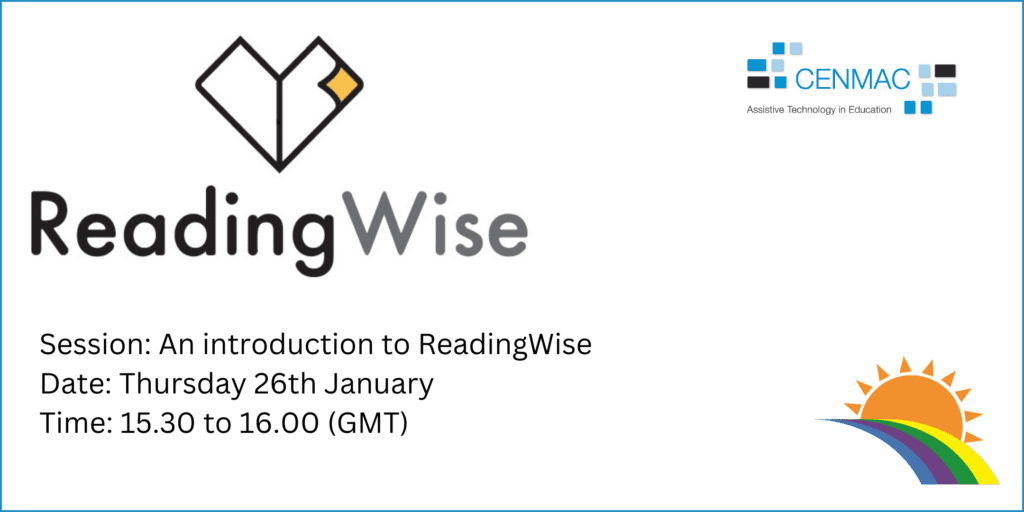 CENMAC's Thursday Thirty – An introduction to ReadingWise
Recorded: Thu, 26 Jan 2023
ReadingWise is used widely across primary, secondary, special schools and with individuals to support children and young people struggling with their reading.
ReadingWise provides structured online resources for learners from Y1 upwards with age-appropriate programmes covering reading decoding, vocabulary and comprehension.
Join us for this useful 30-minute online session to find out more.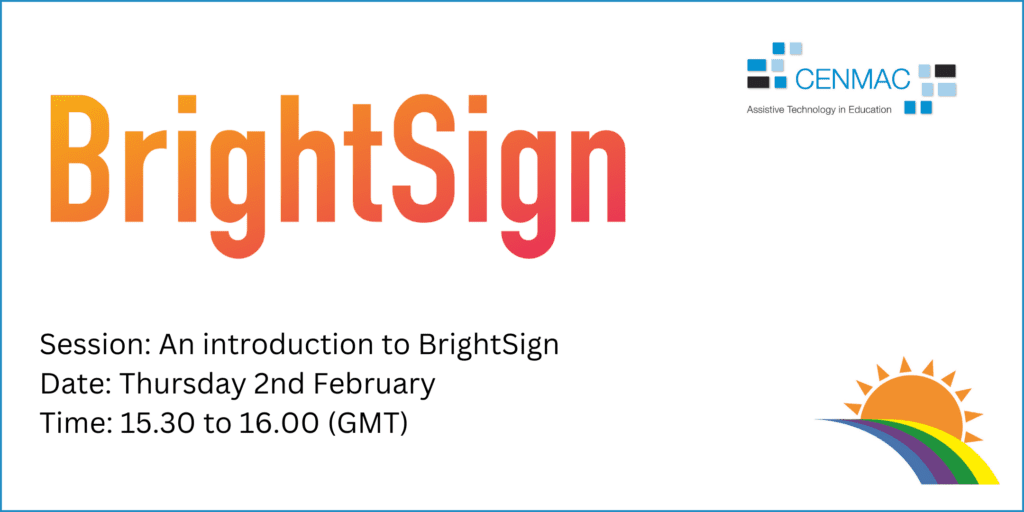 CENMAC's Thursday Thirty – An introduction to BrightSign
Recorded: Thu, 2 Feb 2023
BrightSign is a smart glove that can learn any signs or gestures (whatever the user's physical abilities) and then translate those into speech – whether it is BSL signs, Makaton, SignAlong or completely individual gestures.
Join us for this useful 30 minute session and we'll show you what BrightSign glove can do, how easy it is to set up, and how it can help students communicate independently.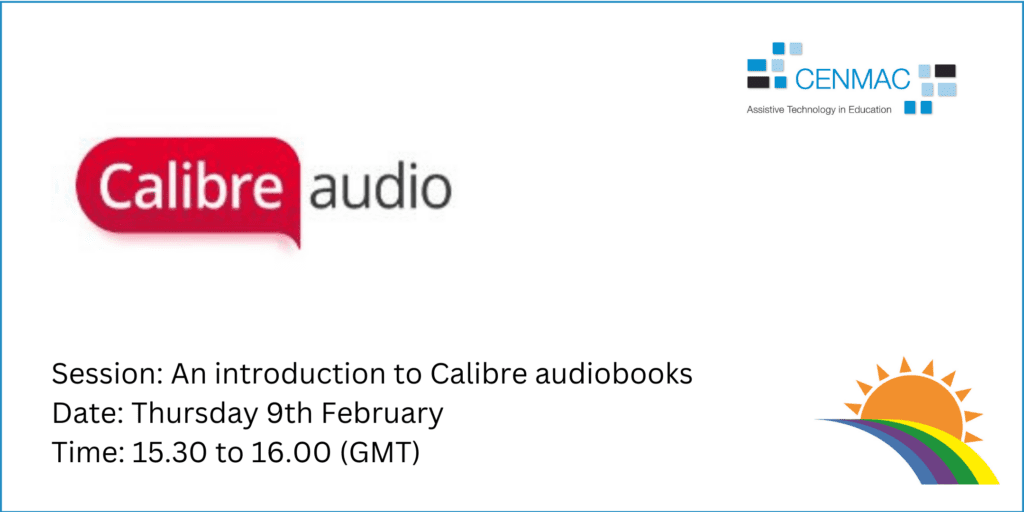 CENMAC's Thursday Thirty – An introduction to Calibre audio books
Recorded: Thu, 9 Feb 2023
Calibre Audio provides a free audiobook service for adults and children in the UK who struggle to read print as a result of conditions such as dyslexia, ADHD and other learning difficulties to visual impairment, and other physical and neurological conditions.
Main benefits for users:
Inclusion: giving those who struggle to read print equal access to educational texts and books to read for pleasure
On demand: Books are available to download or stream and through Apps like Libby and Dolphin EasyReader, users can pick up and begin listening where they last finished without the need to scroll through
Accessibility: accessible USB players are simple to use and easily portable allowing audiobooks to be listened to anywhere