The CENMAC assessment and review process involves working with many school SEND teams and we often receive feedback about how our service has positively impacted the lives of the children and young people we help to communicate and/or to access the curriculum using assistive technologies tailored to their individual needs. Below are some of the comments we have received.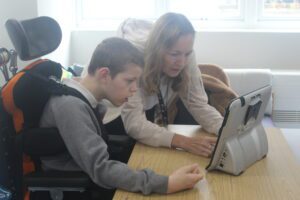 SEN Inclusion and Monitoring Team
Since 2019, under the management and leadership of Kathryn Stowell, CENMAC have provided a transformed and outstanding service, which is continuing to develop.
CENMAC works closely in partnership with Southwark LA to ensure that our systems are aligned, relevant and effective in delivering the highest quality support, advice and outcomes for our SEND pupils in the most cost effective way. This is enhanced through the use of the SETT Framework and the flexibility and openness in which they approach their partnership working.
The CENMAC team have also provided workshops via Southwark's SENCO's training programme, here is some of the evaluation feedback –  "the use of case studies was very powerful and clear". "fantastic session with lots of practical ideas. I will definitely be checking out some of the websites suggested". "I will definitely be exploring some of the apps discussed and the accessibility features that were covered during the session. The case studies were also interesting."
The CENMAC Newsletter is an excellent resource for our schools and parents.
Ann Keily, SEN Inclusion and Monitoring Team
Federation Assistant Head for Inclusion (Interim), The Gem Federation
I just wanted to extend a massive thanks to you and the entire team. Your support has been phenomenal, you are such an amazing service and do an excellent job supporting schools, children and their families. Thank you!
Lori Knight, Federation Assistant Head for Inclusion (Interim), The Gem Federation
Young person Jacqueline A, age 19
As someone who had left mainstream education and began home tuition, I was disadvantaged with the lack of equipment I couldn't access by regular means. Thankfully, CENMAC made it possible for me to reach my full potential, providing equipment, software and a laptop, which were imperative to my studies and exams. The invaluable support provided helped me overcome my physical and visual difficulties. Kathryn has been incredibly helpful and understanding throughout this entire process; listening to my problems and difficulties and always managing to find an aiding/assistive solution, whether it is regarding education or to aid with day to day activities, routine and quality of life.
Many thanks to those at CENMAC!
SENCO at St George's Cathedral Catholic Primary School
School is delighted with the CENMAC support in place for our SEND children and colleagues. The computer technology empowers the children to become more independent with their learning. Also, the bespoke training gives staff the confidence to use the technology in different teaching and learning contexts.
When one child received their device for the very first time they were excited and immediately said: "Wow! I have got my own laptop." The SENCO asked another child if they enjoy using their computer. The child confidently responded, "Yes! The computer helps me see."
Director and Principal Speech and Language Therapist, Therapy Links UK
I've worked in London as a speech and language therapist for 20 years and have worked on and off with CENMAC during this time. The service has changed significantly in recent years and the value that it now delivers to students, staff, parents and professionals is second to none.
The fact that CENMAC now has a diverse group of professional advisors has made a huge difference to the services offered – the addition of a speech & language therapist to the team for example, means that the technology to support communication is so much more functional, appropriate and relevant. The other team members allow more specialised and nuanced advice than has been possible previously. The team always works well collaboratively with those involved with students on a day-to-day basis to make sure that advice, equipment, software and training is going to meet individual student needs. The team is flexible, responsive and highly knowledgeable and skilled.
The value that they bring and the impact that the service has on our individual student's progress has been fantastic to watch and be a part of. Their input has also allowed us to demonstrate to the Assistive Communication Services what our students are really capable of when provided with the right AAC support, therefore meaning that referrals are more likely to be accepted and the students better supported into adulthood. A fantastic service that we couldn't do without!
Frances Johnstone, Director and Principal Speech and Language Therapist, Therapy Links UK
Parent of home educated student
We wanted to thank you for the support from CENMAC which is always invaluable but especially so at this time. Jack's device for home tuition arrived a short time be fore lockdown began and has worked extremely well for him. He has been able to study for 5 GCSE's, English language and literature, maths, triple science and film studies. The device has enabled him to store all his work and interact with his tutors, which has been important for Jack during lockdown to be able to speak to them. His confidence has soared and he has made great progress, so thank you.
Speech and Language Therapist
"Thank you so much for your demonstration yesterday. I think you could probably tell – you slightly blew our minds!"
Remote technical advice
"Thank you so so so much for this outcome, I truly appreciate the swift approach and results. A huge thank you , to both of you, your assistance has made a remarkable difference".
Student using Dragon
Rephael: "Before I had this software I was struggling with my work. I couldn't write fast enough. But now, with Dragon and the computer that CENMAC provided, I'm excelling in my work."
Bette P: "Prior to CENMAC Rephael struggled with his learning. His handwriting was a problem. It was slow and painful due to his condition. He was beginning to lose interest in his studies because of his difficulties. Since Rephael has been assessed by the very experienced and understanding Mr Annett his interest in his studying has been renewed and all his teachers have noticed a marked improvement in his learning, his enthusiasm to learn. Now he is even writing stories and undertaking independent study. I believe that is evident that CENMAC has transformed his life and I expect it get better and better."
Louis and family
I am so pleased to be able to add our comments here. My son Louis has a visual motor coordination difficulty which makes handwriting laborious and painful. Added to this he is left handed which has meant that from an early age, he has had to do things the opposite way from his peers, He has impaired fine motor skills.
Both Louis and I routinely spoke with his primary school and requested that he use a computer to complete his written work and was always told, no. Louis was demoralised by this as his handwriting was difficult to read – he would put so much time and effort into his writing and then wouldn't be able to read it. It also meant that his self esteem was impacted as well as his relationships with staff. On the day his EHCP request was agreed I submitted his CENMAC referral form. That was May 13th – deep in the country's lockdown. I didn't expect to hear anything back but had a reply on the 14th and by Fri 22nd I received an email from CENMAC to say the referral had been accepted. I can't overstate the relief and joy that my son experienced. He knew the importance of it and the timing – it meant that he would be starting secondary school on a level playing field. He felt – as did I – that this was going to be a game changer and his opportunity to show his new teachers just what a bright boy he is – unencumbered by the limitations of pen and paper. He was so excited and felt like he'd won something very special.
One particular bonus for him was that for the first time, he felt able to express his creative side – he had always felt embarrassed and ashamed of his drawing. Mary made contact with me and we arranged a google meet, mid June. Before the meeting Mary asked to know a little about Louis and his likes. I told her about his love of Pendolino trains. Louis and I were incredibly touched when – on a google meet – a pendolino train was Mary's backdrop. During this session I was so happy to hear the way Mary dealt with Louis – as an interesting young man with needs that could be addressed. Louis was absolutely thrilled. When I later met with Mary separately I was struck by the fact that she asked questions no other professionals had ever asked. She was interested in the whole of my son not just the bits she was supporting. She saw the whole child and this is rare.
So! Louis has started secondary school with his CENMAC packed and charged every day. He uses it routinely and confidently. It has changed how he sees himself. He has brought him confidence, pride and self esteem. He was constantly getting in trouble at primary school. He has not once been told off at secondary and has received 15 positive achievement points. I firmly believe this has a great deal to do with his needs being met. I cannot recommend Mary and her team highly enough. She is an extremely skilled and thoughtful professional and I would nominate her for every award going. I asked Louis, "if you were to say something about Mary and CENMAC what would it be?" Louis' response?: "Thank you"
– With tremendous thanks, Louis and family, September 2020
What would we do without CENMAC?
For over 20 years Greenmead children, staff and parents have had access to advice from CENMAC. We are fortunate that our LEA buy into this service as we find it an invaluable support for our work with physically disabled and PMLD pupils. The equipment that CENMAC is able to loan is just a small part of the service. The most valuable aspect of their work is that they have an in depth knowledge of working with children with special needs and an up to date knowledge of the available ICT equipment and software for supporting these children. It would be impossible for our staff to keep as up to date with the rapidly developing world of ICT. Also, although we have considerable expertise within our school, CENMAC staff give us ideas of good practice gathered from their work with other professionals in the field of SEN. Their objective views give us alternative ways of supporting our pupils in the curriculum and help to maintain our enthusiasm!
Penny Morley, Greenmead School