Teaching Assistant Award 
In our work supporting students with assistive technology, we meet some amazing teaching assistants who we would like to acknowledge. The extra work and the skills of these individuals have a huge impact on their students' learning.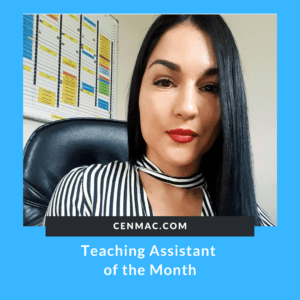 October 2021
Angela from Bessemer Grange Primary School
---
I would like to nominate Angela for this month's TA of the Month Award because of her fantastic support and integration of the CENMAC equipment into the ABA (Applied Behavioural Analysis) approach.
Angela has a lovely relationship with the student she works with and the progress this student has made is significant. Angela has been proactive in learning about the various assistive technology and especially how she can adapt and integrate within the ABA targets. It has been a real pleasure working with both Angela and her student and wonderful seeing the impact of both effective support and tools.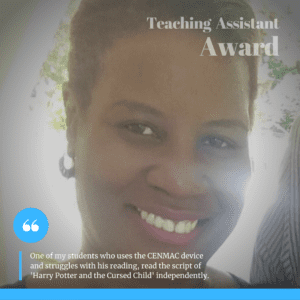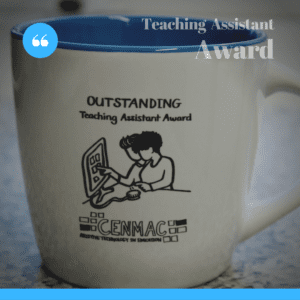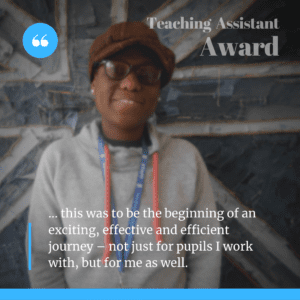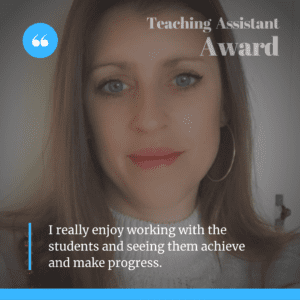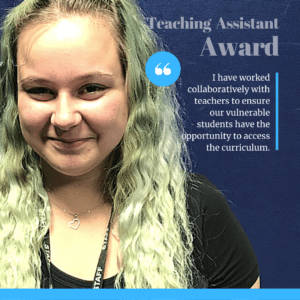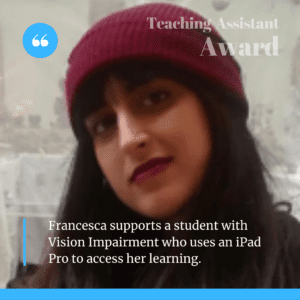 November 2020
Brooke, Woolwich Poly Sixth Form
---
'I joined Woolwich Poly Sixth Form in 2017 and I felt so overwhelmed with the help, support and guidance I was given from all my teachers – especially from the Learning Support Department. This gave me the motivation to want to become a Learning Support Assistant. 
I joined the Learning Support Department in September 2019 as the youngest member of staff. I quickly grew in confidence because I was enjoying my role. In class I have supported pupils with a range of needs. I have worked collaboratively with teachers to ensure our vulnerable students have the opportunity to access the curriculum.  I am now confident to share ideas and this makes me feel like a valuable member of the team. Working with a pupil using a CENMAC computer, gave me the opportunity to learn about the support CENMAC provides and how it helps the pupil to access their work.  The training I have had from CENMAC has been invaluable.' 
Brooke has been an outstanding teaching assistant who has embraced the skills needed to support pupils using the Surface Pro computer. She has learned how to use the software and has trained other Support staff. Brooke also helped the students understand how to manage their work and structure their saved documents, in short, she has had a significant impact on the learning of the students she supports.
October 2020
Francesca, More House
---
Francesca supports a student with a Vision Impairment who uses an iPad Pro to access her learning. When the student's iPad was upgraded at the start of this term to a newer model, Francesca's help and liaison with CENMAC was invaluable in ensuring that all the apps and documents stored on the previous device were safely transferred across.
Francesca remained calm and patient while working with the CENMAC team and we look forward to more collaboration this year to ensure that the student she supports continues to make outstanding progress.
"I have been at More House from the start of this academic year. Previously I have worked as a personal tutor. What I particularly relish in my job at the moment is seeing first-hand how my student is keeping up with her classmates and most importantly achieving her own academic merits. I am happy to contribute to her process to reach learning independence. On a more general note, this job is making me much more aware about visual accessibility and how it is fundamental for everyone."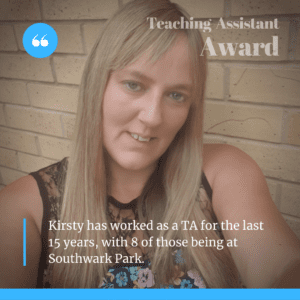 September 2020
Kirsty, Southwark Park
---
Kirsty has worked as a TA for the last 15 years, with 8 of those being at Southwark Park. The student Kirsty supports uses an eye gaze device, a voice amplifier and just recently has had the addition of the No Isolation Robot.
Kirsty was involved in our animation project, supporting the students to access the online course as well as complete the course work in between sessions. It is not an easy skill facilitating and supporting students to access education while enabling them full independence and control and Kirsty does this brilliantly.
The positive relationship Kirsty has with the students is lovely and she really went above and beyond to ensure that any technical issues were resolved, and they could take part even within a pandemic.
The work of the students and what they have managed to achieve is a real credit to Kirsty.
Kirsty said: she is proud of the work at Southwark Park to help and support all children to grow, she loves working with the students.