Celebrating children and young people
We will be celebrating the achievements of our CENMAC students throughout 2023. If you would like to nominate a CENMAC student at your school who deserves special recognition for embracing their assistive technology to assist their learning and/or communication we would love to know!
Make a nomination for Student of the Month!
To make a nomination download the form and save it. Email the completed form to us at newsandevents@cenmac.com with the Subject line: Student of the Month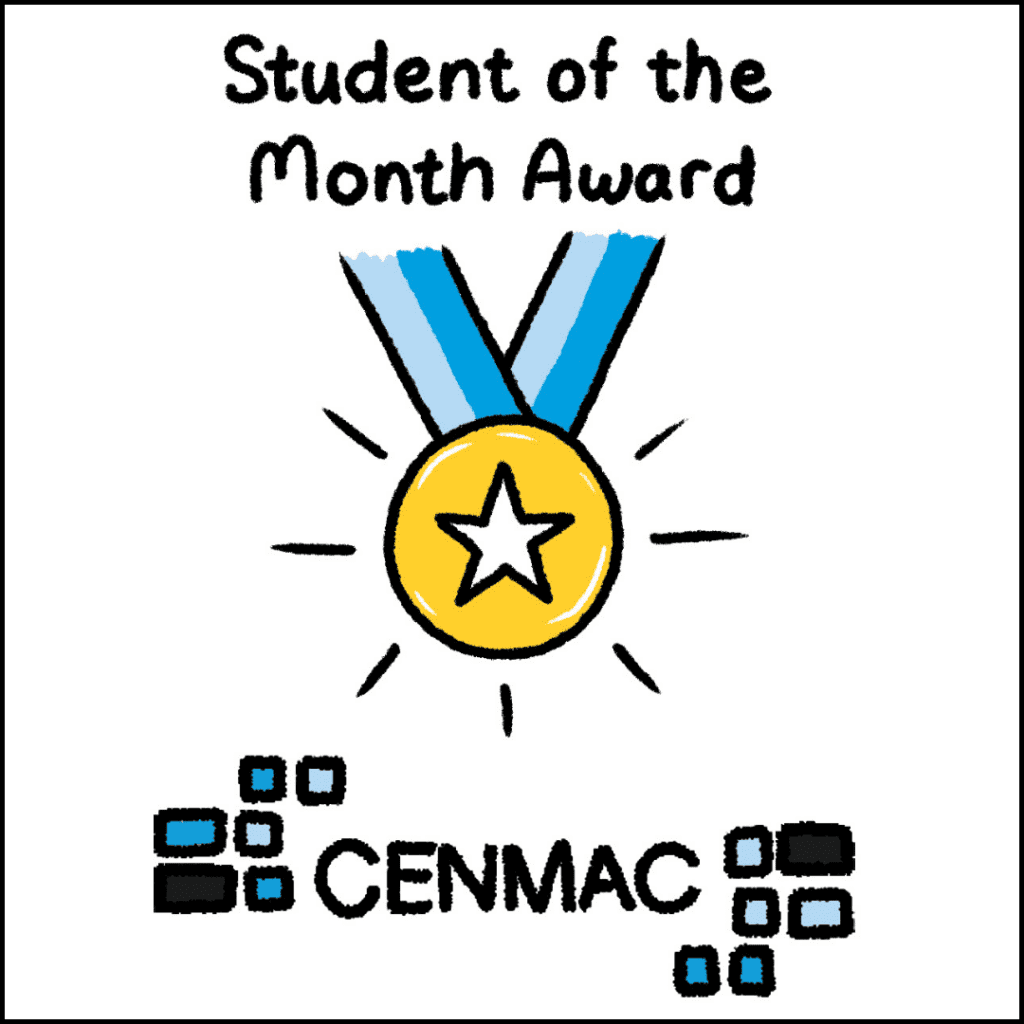 October 2023
This month we are delighted to award Student of the Month to Ace a pupil at Kidbrooke Park Primary.
CENMAC Specialist Teaching Assistant James Dewar-Hassan said that Ace has been doing excellent work using Clicker since starting in Year 4.
Emma Dale-Emberton, SENCO at Kidbrooke Park Primary said "Ace is a good speller and reader but a very reluctant writer. He struggles with letter formation and keeping his writing on the line and it can be hard to read his work. This can make him reluctant to start work and make him frustrated. Ace now understands the amount of work he is capable of producing when using his laptop and this has raised his self-esteem."
Ace said "I am good on the computer. I like using First Keys. I am thrilled to win this award. I am looking forward to seeing my photo in the newsletter. My Mum and Dad are very proud of me for using my laptop to produce good work.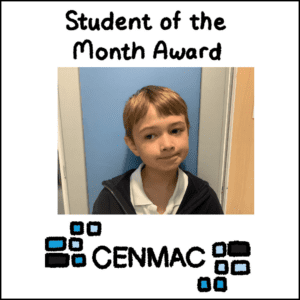 Ace has been doing excellent work using Clicker since starting year 4.
July 2023
This month we are delighted to award Student of the Month to Gabriel (Gaby) a pupil at St Pauls CofE Primary School
"Gaby has been such a pleasure to work with! He always gives everything a try and strives to do his best. Gaby has been quick to learn how to use his laptop to support him with his learning. He is making fantastic use of Clicker 8 for his written work at school and really enjoys First Keys 3 for practising his weekly spellings. Both myself and Gaby's Occupational Therapist were impressed with his typing speed and navigation and it is clear that Gaby has been working on this. Gaby is now developing his fine motor skills through the use of an iPad and personalised stylus.
More recently, Gaby has started attending mentoring sessions with my colleague Abdi Omar for support with his AAC device. Abdi is also an AAC user and these sessions have been brilliant for Gaby. His engagement, focus and enthusiasm have been such a pleasure to watch." Victoria Annan, CENMAC Advisory Teacher
"Gaby has worked incredibly hard on using his AAC device in school and at home. He is confident to navigate the systems and is developing his fluency with using this. His LSA, class teacher, and other children in the class work alongside Gaby to communicate using his device and are developing their expertise. Gaby uses his device throughout the day, alongside other technology (his laptop) to communicate and share his thoughts and ideas. He is proud to show his device to others and takes pride when using this with his peers. Gaby has also been paired up with another AAC user and has been attending weekly mentoring sessions online, which he loves. We are all so proud of the progress he is making!" Stephanie Black, SENCO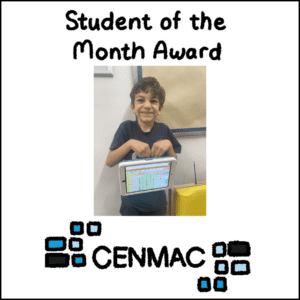 Gaby has worked incredibly hard on using his AAC device in school and at home.
June 2023
This month we are delighted to award Student of the Month to Perez a student at Lyndhurst Primary School.
"Perez moved from a low-tech AAC system, to the high-tech device CENMAC loaned, a tablet with Word Power 100. During his assessment with CENMAC Speech and Language Therapist Sarah McPoland, Perez navigated quickly to the keyboard, something his low-tech system hadn't contained, and typed 'Teletubbies', one of his favourite shows. This was a real breakthrough moment, as previously Perez had not been able to communicate about his hobbies and interests outside of his low-tech system.
Since its introduction, Perez has developed skills and competence in many areas of device use – navigation, typing and using the predictive option. He is beginning to form his own sentences about pictures in sessions, with the support of his TA, Ms Angela McKenna. Perez has recently discovered that adding punctuation changes the intonation of the voice output. After seeing a picture of a girl who had gone down the slide and landed in a muddy puddle, Perez typed 'Oh no!', then replayed it, giggling, which had us all falling about.
I am so proud of Ange McKenna (TA) and Perez. I am grateful for the support Ange has given and am excited for what the future holds for Perez and his family." Olivia Walker, Speech and Language Therapist, Therapy Links UK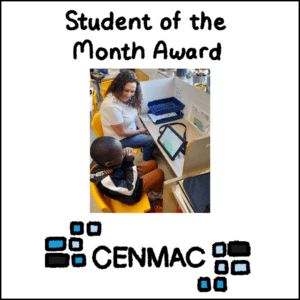 Perez working with his Teaching Assistant Ms Angela McKenna.
May 2023
This month we are delighted to award Student of the Month to Ruth K.
Ruth K is a year 8 student at Pimlico Academy. She never lets her disability hold her back and always has a smile on her face and never fails to make the teachers laugh. In fact, she even showcased her talent for stand-up comedy as part of a recent talent show at school, leaving everyone in stitches.
Ruth's skills in writing poetry are exceptional too, as she not only won a poetry competition but also had two of her poems published. One of her poems even made it into a book that can be found in the school library. Although Ruth is sometimes in pain, she never lets it hold her back and always gives her best effort, always pushing herself to the limit. Ruth always makes excellent use of her CENMAC equipment, proving to be resourceful and innovative. It is truly inspiring to witness the fantastic progress she is making.
Well done Ruth!
April 2023
This month we are delighted to award Student of the Month to Shahad at Notre Dame Girls School.
Shahad is a bright, smiley, and chatty young girl who is determined to achieve success despite her many challenges. Shahad has a vision impairment and other undiagnosed health needs and is under health investigation and is often hospitalised for this.
Shahad was given a Connect 12 which she uses every day. Moreover, she has taught her teachers and TAs to help them to be able to support her and she has now received some more equipment to support her even further which she is very excited to receive.
At the start of each lesson, Shahad sets up her own equipment so she can see the lesson material. She always has a positive attitude towards her learning and is an absolute pleasure to work with.
Well done Shahad!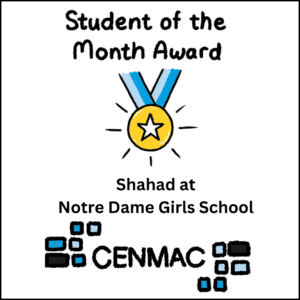 March 2023
This month we are delighted to award Student of the Month to Jade at Charlton Park Academy.
Jade has settled into her class with brand new staff and students, this could have been difficult for Jade, but she has settled in so well.
Jade is using her iPad with Supercore 50 a lot more in class to answer questions and join in during lessons. A really exciting skill Jade is developing is getting her message across and not giving up! If Jade doesn't have the word or can not find it, she will use the internet to help, which is brilliant. Jade this week has initiated a conversation using her iPad which is a wonderful achievement.
It was lovely to see how proud Jade was of herself, we are really proud of her.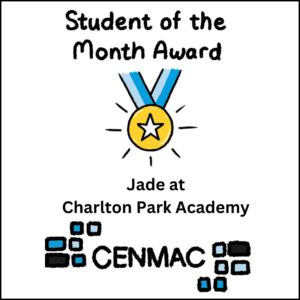 February 2023
This month we are delighted to award Student of the Month to Charlie at Gordon Primary School.
"I'm really happy of the progress Charlie is making in his reading, writing and maths using the ipad and laptop. He especially enjoys making voice notes. The equipment has really changed things for him and it is a lot easier for him to experience success. We are really proud of him!" Hannah Cuesta, SENCO/ Inclusion Manager/ Assistant Headteacher
Charlie said "Luckily, we have a touch screen. I love doing voice notes and going on explorer to choose a story when I've finished my other work. My favourite thing is choosing a story."
Well done Charlie!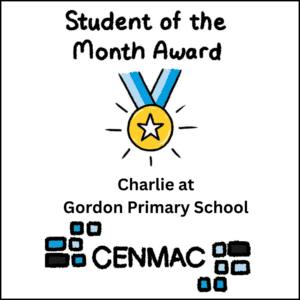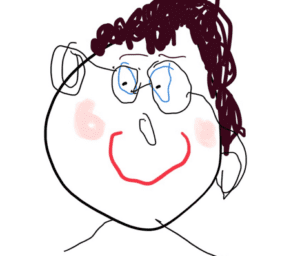 Charlie – Self portrait
Created on an ipad using pencil
January 2023
Happy New Year! This month we are celebrating all the students who were nominated for Student of the Month in 2022.
They were nominated for their positive attitude to learning and communication and embracing their assistive technologies. Well done to all!
Student of the Month
December 2022 – Elirone at Haberdasher's Borough Academy
November 2022 – Sabarin at Lambeth College
October 2022 – Maxwell at Macaulay Church of England Primary School
June 2022 – Audrey at Bishop Thomas Grant School
March 2022 – Hashir at Ashcroft Technology Academy
February 2022 – Omar who takes part in weekly AAC chat sessions with Abdi Omar
January 2022 – Danny at Charlton Park Academy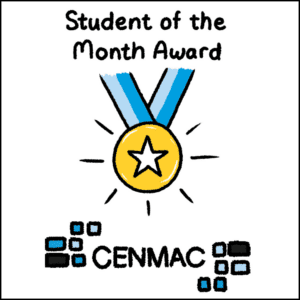 December 2022
This month we would like to nominate Elirone a Year 7 student at Haberdashers' Borough Academy in Southwark. Elirone always tries his best with his learning and has embraced the use of technology to support his vision.
Elirone's favourite subjects are History and Science, where he gets to use his CENMAC iPad, but also enjoys Maths. At the start of each lesson, he links his tablet to the digital whiteboard so he can see the day's material up close without having to strain his eyes. It also allows him to magnify small items on the screen that might be difficult to see.
"It makes everything clearer and easier to see. It's just bigger and better", Elirone says with a smile.
He's the comedian in the classroom and very popular with the rest of his peers in the playground.
Well done Elirone!
November 2022
This month we would like to nominate Sabarin, a student at Lambeth College.
Sabarin came to the UK when she was very young and taught herself English using CBBC and Tracy Beaker! She now speaks English fluently. Her level of vocabulary is accomplished and very mature. Sabarin has faced a great deal of adversity and through sheer tenacity, she has overcome many hurdles.
Sabarin has now been with CENMAC for a year. Prior to that, she was doing her very best to complete her college work by using free apps on her phone.  Now that she has her own laptop with read aloud and dictation software, we are sure that she is going to do incredibly well. Well done Sabarin! Reach for the Stars!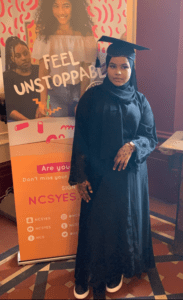 Student of the Month
Sabarin
October 2022
This month we would like to nominate Maxwell a student at Macaulay Church Of England Primary School.
Mary Long Advisory Teacher at CENMAC said "Maxwell has been a CENMAC student for four years. He always has such a can-do attitude towards his learning and is an absolute joy to work with. Maxwell only needs to be shown something once and then he has the skills and confidence to carry on using his technology by himself. He is always keen to learn and make progress."
Maxwell said "My name is Maxwell and at school I use a laptop and an iPad. It helps me when I'm doing English because it makes me a lot faster so I can do the class work better. Every day I practice touch typing to get faster. There are games on my iPad are for cutting and drawing which I enjoy. If I need to remind myself what I need to do from the whiteboard, we use my iPad to take a photo of the board. My laptop and iPad help me every day. Mary comes and helps me and shows me new things on the laptop."
Well done Maxwell!
June 2022
This month we would like to nominate Audrey at Bishop Thomas Grant School.
Wayne McCullough Advisory Teacher at CENMAC said "Audrey has made great improvements in her reading and writing and has such a positive attitude towards her learning and embraces the technology to support her. I am so impressed with her progress."
Audrey said "I find my computer extremely helpful for loads of reasons. It is great for homework and in class helps me improve my reading and writing skills. It is also amazing for when I am really struggling at something and I can use it as a helping tool. All the apps and systems that are installed are so helpful in insuring that my work is as good as it can be."
Well done Audrey!
March 2022
This month we would like to nominate Student Hashir from Ashcroft Technology Academy.
Hashir has shown an amazing transformation in his attitude towards and desire to use a range of assistive technology to enhance his access to learning. He has been a CENMAC student for just over a year, and in that time has demonstrated a willingness to dismiss any initial uncertainty he had around the use of his equipment. He is now using his devices in any lessons where he needs to write longer answers and is developing his understanding of how he can use particular tools to make his learning materials more accessible. Well done, Hashir!
Hashir's key worker in school had this to say:
"I am really proud of how far Hashir has come in regards to using his iPad. Hashir is excellent at both navigating his technology and utilising it to ensure that he gets the most out of every lesson. It is worth mentioning that Hashir never wastes lesson time by spending too long formatting his work (changing fonts, colours etc) – it truly serves as an aid to his learning and is never a distraction to him. I can see a real difference in the amount of work produced by hand vs on his device and it is very clear to me as a staff member supporting Hashir that it makes a world of difference to him. He can now take notes at the same speed as his peers and produces extended pieces of writing in lessons where previously he may have struggled to do so when writing by hand. Hashir is also learning to take on more responsibility for himself and his equipment by carrying his device around and ensuring that it is sufficiently charged for when he needs it. It is wonderful to see Hashir flourishing and I'm sure he would agree that CENMAC has made a hugely positive difference to his learning."
Well done Hashir!
February 2022
This month we would like to nominate another Student Omar who takes part in the weekly chat sessions with Abdi. Omar has made such significant progress with using his AAC device and does a great job of getting everyone laughing and having fun during these sessions. Well done Omar!
January 2022
This month we would like to nominate Danny here at Charlton Park Academy.
He has joined the chat group with Abdi with real enthusiasm. During the first few weeks of sessions, we have had to extend his vocabulary to keep up with his participation. Danny is becoming a fantastic role model for others in this group. Well done Danny!
December 2021
For December, we have two students who have been nominated for the Student of the Month award. This month the award goes to Matthew and Graham (both in Year 6) from a primary school based in Richmond. 
Here is what they had to say about how using their equipment helps support their learning: 
Matthew – "It has made my life so much easier in English and I can type quite fast so I get a lot more done."
Graham – "My writing is more efficient and it has ensured that I finish my work in time. It means my hands don't get tired. I like having the drop-down box to spellcheck words."
We are really proud of all your achievements, keep up the great work.
Special Mention: Not linked to his use of technology (which is none-the-less fantastic) we have a special mention this month for one of our students who completed an amazing personal challenge over the summer this year. Click here to read Toby's story of determination and resilience and find out what the donations from his fundraising were used for! 
November 2021
This month we have two student ambassadors who we wish to highlight and to thank for their great efforts in using their equipment and in sharing their expertise with others in their schools and beyond. Kamal and Khamani love to talk to others about how technology has helped them, and CENMAC invited them both to help at our stand at the TES SEN Show in October. Kamal and Khamani did a great job on the stand, showing attendees how to use various items of assistive technology and talking about their own journeys using technology to support their learning. 
October 2021
Lamari and Jelani who are students at a secondary school in Lambeth, have been awarded Student of the Month for supporting fellow students with their equipment in school and acting as ambassadors for CENMAC. 
Ms D Robinson, a Specialist Speech and Language Assistant had this to say: 
'Two of our Year 11 students Lamari and Jelani, led an information session to help encourage and advise a group of seven Year 9 students who have or are awaiting CENMAC technology.   We aim for our Year 9 CENMAC students to begin to use this technology more consistently in their English and History lessons.  
These students used their equipment to demonstrate how CENMAC can be used in lessons.  They showed the group their equipment including accessories and a carry case. They explained how it has enhanced their learning and enabled them to improve the quality and content of their written work as well as being able to access information quickly in the lesson to organise and support their learning. 
The group of Year 9's listened intently whilst both boys spoke about the benefits of using this in their lessons.  They were able to explain how to get around charging the device in lessons, how to organise their subjects in their Google Drive, and how to use the brainstorming software to organise and plan their written work. 
Year 9 were given the opportunity to ask questions at the end of the talk.  Some of the questions were very practical and some more personal: for example, 'how do other students respond when you first start using the equipment in class'. 
It was so helpful to have these questions answered directly by students who have actually used Assisted Technology for some time and experienced how others may react in the learning setting.  One response was " Oh, I just tell them I use it as I have dyslexia and it helps me to do my work" 
The other students replied,  'no one really asks'.   
The students were able to discuss how to respond to others asking to use their equipment, how to look after it, and storing it safely during PE or playtime. 
Along with helping to support the Year 9 and showing them how Assisted Technology can aid their learning, this was a valuable session for our two Year 11 students, who both have Speech, Language and Communication needs.  This was an opportunity to help them feel confident and comfortable talking to others who may be unfamiliar to them: which is excellent practice for upcoming interviews for their Further Education.  Our Year 11 boys came out of that session feeling proud and confident that although they were nervous about talking to others and answering questions, they managed it really well and did an amazing job.  
They both have mentioned they will be happy to do this again to other students who may be using Assisted Technology in the future.  They also offered to help with problem solving and finding solutions if anyone needed help. 
I am extremely proud of the boys and their achievements.  
Thank you to the CENMAC Team for making this possible for our students and enabling them to meet their full potential throughout their education.'
The whole CENMAC team are very proud of Lamari and Jelani. Well done on this great achievement.