CENMAC Vision & Aims 2022 – 2028
Raising the aspirations and achievements of children and young people using assistive technology and/or augmentative and alternative communication.
CENMAC is a unique person-centred service involving a multi-disciplinary team of professionals, working together to provide assessments, reviews and loan of cutting-edge assistive technology. We support any child or young person (aged 2 to 25), experiencing barriers to their learning and/or communication in a range of educational settings (or at home) across Greater London.
SETT framework
Using the SETT framework CENMAC assesses the needs of each individual, and loans appropriate equipment aids and technology for learning, communication, relationships and life skills.
We take into account the time it takes each individual to learn and to grow and we work with families and schools to test, prioritise and embed communication systems.
With ongoing targeted support, we aim to improve educational outcomes and have a positive impact on their communication.
Ongoing training
We offer regular and ongoing training for adults (including teachers, TAs, school leaders, health and other professionals, parents and carers), supporting the child or young person to ensure effective use of the assistive technology. We also respond to individual training needs as required.
Regular reviews
We conduct regular reviews of progress, and provision may be updated at any time in response to the changing needs of the child or young person.
We seek to raise the achievement of all the children and young people we support and have high aspirations and expectations about what is possible now, and in the future.
Collaboration
We collaborate with communities, businesses, universities and other organisations to influence policy and practice, funding, and the continual development of cutting-edge technology.
Our annual event Communication Works, held in May, celebrates the latest innovations in assistive technology and gives us an opportunity to showcase the achievements of the children and young people that we support.
Research
We support professionals adopting evidence-based approaches contributing to new research & innovation in education and assistive technology. For more visit our website research page.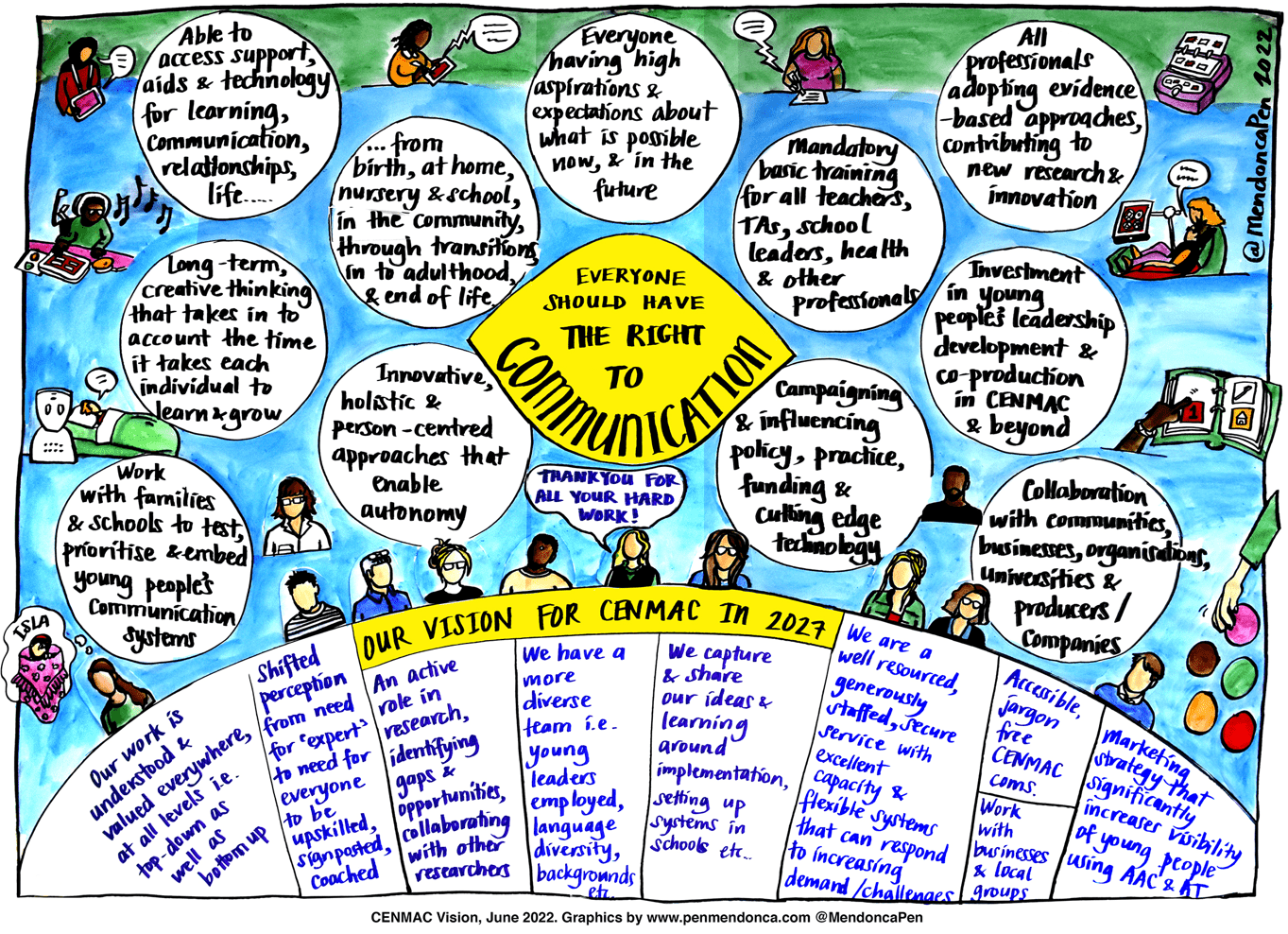 CENMAC are working on a project plan to develop our service. Please see some of initial ideas and aspirations for the future.
Graphic Facilitation by www.penmendonca.com