CENMAC and young author Lillie-Ann
There's no way round it: writing is hard. I know because I write. It can be a painful and frustrating process. It takes determination, perseverance and self-belief. There is always room for improvement and you have to be a willing to continually reflect upon and rewrite your work in response to critical feedback.
Children in particular often find writing a real struggle, so it was a privilege to be invited to work with a pupil who loves writing and is committed to engaging with all the joys and challenges it brings. Lillie-Ann has an ambition: to write a book. My job is to facilitate that. In fact, at our first meeting, she informed me that she had a series of seven books up her sleeve!  
Together, we have started on her first mid-grade novel. The ideas are all hers and when I sometimes question the logic of her thinking, she tells me to be patient as she has it all mapped out in her head and I must trust that it will all make sense in the end. It always does! 
We decided to post draft versions of her work on the website and ask for your constructive feedback as we develop this story. Please take the time to respond. Knowing you have a real audience out there reading your work is a great motivator! 
Feedback to Zoe or tweet us @CENMAC
Zoë Tillotson 
English Advisory Teacher, CENMAC 
Start reading, (Untitled) Prologue and Chapter One are below…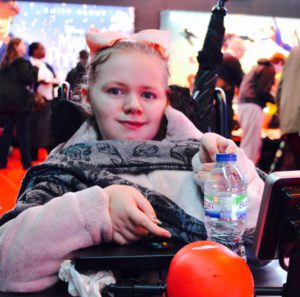 Hi there, my name is Lillie-Ann. I am 12 years old and a year 7 pupil in a South-East London school.
---
My dream since I was seven years old has been to become an author. I love to read and always have my head in a book. My favourite books are the Harry Potter series, Nevermoor: The Trials of Morrigan Crow and anything by Jaqueline Wilson.
I have just started writing my first book which is about a girl called Oliva who wakes up one day to find herself in a room with a talking cat and bunch of problems. I'm going to be posting certain chapters on Twitter and it would mean the world to me if I could have some feedback on my first drafts.
Chapter Six
The following morning, I woke up to the sound of Delphi shouting in my
ear.
"I can't believe you let them get away, Olivia," yelled Delphi.
"What time is it?" I groaned.
"Time to get up," said Delphi.
I could feel the map rubbing against my leg as I sat up and looked around.
The trees seemed less sinister in daylight. I wondered who the mysterious
stranger was last night. I was worried they'd return. They seemed
determined to steal the map. Without the map, there would be no hope
of me ever finding the portal keeper or the potion ingredients, for that
matter.
"Hello, earth to Olivia," said Delphi.
"Sorry, what did you say?"
"Oh, never mind," Delphi said. "I'm going to find some breakfast, see you
later," and she fluttered off in a huff.
"I wouldn't trust a pixie, if I were you," a familiar voice said from behind.
I spun round quickly and tripped over the map, grazing my knee on a
sharp stone.
"Nice to see you're so co-ordinated," Opie said, sarcasm in every syllable.
"What on earth are you doing here?" I said.
"I forgot to tell you about the sorceresses' side-kicks," said Opie, "they
are twin boys aged 13 and their names are Frankie and Freddie. They are
identical, except for their eyes. One has green eyes and the other one has
brown eyes, however, you only need to worry about Freddie – the one
with green eyes. You know the mysterious stranger that tried to steal
your map? That was him!
"So let me get this straight, I've got to find the missing portal keeper, find
the potion ingredients to save them AND worry about a thirteen-year-old
delinquent boy who wants to steal the map?" I said.
"Well, when you put it that way, it sounds hard."
"You think?"
"Surely a girl like you can easily handle a thirteen-year-old boy?"
"Oh surely, a sensitive cat like you would have more consideration for
others," I replied.
"Somebody's moody today," Opie said as he prowled off into the trees
with his tail in the air.
Then, ahead of me, in the bushes, I saw a pair of bright green eyes glaring
at me from beneath the thicket. I belted towards the map but tripped and
landed face down in a muddy puddle. I heard heavy footsteps. I couldn't
see anything because of the mud in my eyes but I knew who it was. I tried
to get up but he'd rolled a log onto my legs which prevented me from
sitting up. "Delphi," I screamed. But she didn't hear me. Freddie got
away with the map and my chances of ever saving the portal keeper
evaporated.
To be continued …