CENMAC and young author Lillie-Ann
There's no way round it: writing is hard. I know because I write. It can be a painful and frustrating process. It takes determination, perseverance and self-belief. There is always room for improvement and you have to be a willing to continually reflect upon and rewrite your work in response to critical feedback.
Children in particular often find writing a real struggle, so it was a privilege to be invited to work with a pupil who loves writing and is committed to engaging with all the joys and challenges it brings. Lillie-Ann has an ambition: to write a book. My job is to facilitate that. In fact, at our first meeting, she informed me that she had a series of seven books up her sleeve!  
Together, we have started on her first mid-grade novel. The ideas are all hers and when I sometimes question the logic of her thinking, she tells me to be patient as she has it all mapped out in her head and I must trust that it will all make sense in the end. It always does! 
We decided to post draft versions of her work on the website and ask for your constructive feedback as we develop this story. Please take the time to respond. Knowing you have a real audience out there reading your work is a great motivator! 
Feedback to Zoe or tweet us @CENMAC
Zoë Tillotson 
English Advisory Teacher, CENMAC 
Start reading, (Untitled) Prologue and Chapter One are below…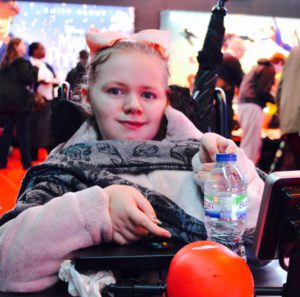 Hi there, my name is Lillie-Ann. I am 12 years old and a year 7 pupil in a South-East London school.
---
My dream since I was seven years old has been to become an author. I love to read and always have my head in a book. My favourite books are the Harry Potter series, Nevermoor: The Trials of Morrigan Crow and anything by Jaqueline Wilson.
I have just started writing my first book which is about a girl called Oliva who wakes up one day to find herself in a room with a talking cat and bunch of problems. I'm going to be posting certain chapters on Twitter and it would mean the world to me if I could have some feedback on my first drafts.
Chapter Five
"So how are we even going to find these portal keepers, anyway?" said Delphi.
"I have a map that will hopefully lead us there." I carefully pulled out the map from my bag and handed it to Delphi. The map was nothing more than a smooth piece of cream paper that was completely blank.
"This is a map? Olivia, I think you need to get your eyes tested," said Delphi. "There's nothing on it!"
"What? Opie told me it was a map that would lead me on my way."
"Well he was obviously lying."
"Wait, let me try something". I took the map from Delphi and removed my fake wand key chain off my bag. "I solemnly swear I am up to no good," I whispered as I tapped the map with my wand. Nothing happened.
"Was that supposed to do something?" asked Delphi mockingly. "Honestly, have you got any idea what you are doing?"
"I never thought it would work, it was worth a try though!" I said.
"Now what?" asked Delphi.
"I'm not sure."
"This is just a load of old rubbish," said Delphi snatching the paper and throwing it on the camp fire.
"Delphi, NO!" Then I noticed something peculiar. The map wasn't burning.
"That's weird," Delphi said. She got a damp stick so it wouldn't burn and used it to pull the paper out of the flames and dropped it on the ground in front of them. It was unmarked except for a picture that had appeared. It was a stretch of land with three X's spaced out on it.
"That looks like Norgard," Delphi said.
"Looks like what?"
"Norgard."
"What's Norgard?" I asked.
"This place."
"Delphi," I said, excitement showing in my voice. "I think this is a map showing where the ingredients for the potion are."
"What potion?" Delphi asked.
"The one we need to make to revive the portal keeper," I replied. "I didn't tell you before because I didn't trust you."
"Excuse me, but I am a very trustworthy Pixie."
"Well how was I to know, I've never met you before!"
"Whatever, it doesn't matter."
Then, I heard a rustle in the bushes behind me. I turned round quickly. Delphi jumped up in the air with surprise. A tall hooded figure was standing before us. Suddenly, it ran towards us and pounced upon the map, grabbed it and headed in the direction of the trees.
"Oh no you don't," Delphi shouted and shot a fire ball at the disappearing figure. It set the back of its trousers on fire. There was a yelp of pain and the figure dropped the map in its haste to escape.
To be continued …