Hicham
Cenmac has facilitated Hicham's use of a variety of technology. He has been provided with a Surface Pro and a Head Mouse Nano with Dwell software which he states has been extremely useful 'for classroom learning, especially independent living skills, like typing, finding information and to skype, message friends via email and to communicate with teachers and other staff at school'.
He adds: 'There was no independence for me before I got my Surface Pro someone else had to do everything for me like type things in or write things down. I'm not using it to play games or anything like that, I'm using it for lessons – for learning – for thinking in my mind to give me ideas to type. I'm not sitting there going 'I can't do this, this and this, no: it's about me and my work and my independence.' '
For a while Hicham experimented with using Eye Gaze but found it rather difficult and frustrating. He said, 'I was struggling to use my eyes because when I double clicked the mouse I had to do it very quickly and I found it really hard to use because I couldn't move my eyes fast enough to keep up'. However, he has found more success using a camera and a head mouse because 'the dot on my glasses means that I can use my head to control the cursor and use the keyboard in the same way anybody else can'.
He has also enjoyed using the Crick software Clicker 7 with the CENMAC English Advisory Teacher to write his autobiography and to make a Clicker book. He says he particularly 'likes the pictures, voice and writing. I like making a book about me and my family. I liked the microphone because it read my work back to me and it helped me with my reading'. He speaks about how CENMAC has also helped him improve his spelling by teaching him the Look, Cover, Write Check method.
In addition, Hicham talks about how he has personally benefitted greatly from using Skype to communicate with mum and dad as well as other family members and friends further away.
Another piece of technology Hicham has accessed via CENMAC is Dragon. He enjoys the way he can use this programme to speak and 'it turned what I said into writing. I liked the ear microphone because it repeated the words I said back to me. The words I say come up on the screen. I like it because it gives me independence. It allows me to speak to the computer and it follows my instructions'.
He is also excited about Open Word and explains how you simply 'type in information about a subject'. This, he says, 'helps me write down information in my head. My teacher wants me to go to the internet, search for a topic, then write down the information I find on the internet. Open Word helps me to type the information in. If I make a mistake, I can just say 'delete that' and it will take the word off'.
Soon, Hitcham will leave school and enter college. He spoke appreciatively of how making a Wiki has helped prepare him for the transfer to Bexley College and to provide the staff there with relevant information about him such as: "what I like and don't like and what I want to do in the future".
Hitcham has some valuable advice for users new to this technology. Firstly, he says: 'It's most important that you be patient because it's new, practise a lot and relax. Breathe deeply then continue when you get stuck. In a few days or weeks, you will find that you think it's clever and you will more feel confident and happy about that'.
Perhaps the most important point Hitcham makes is that: 'You will become more independent and you can make decisions for yourself. If you don't like the technology, that's fine. You will find a different technology to use. You choose. You make the decision. I can't tell you what to choose. It's your decision'.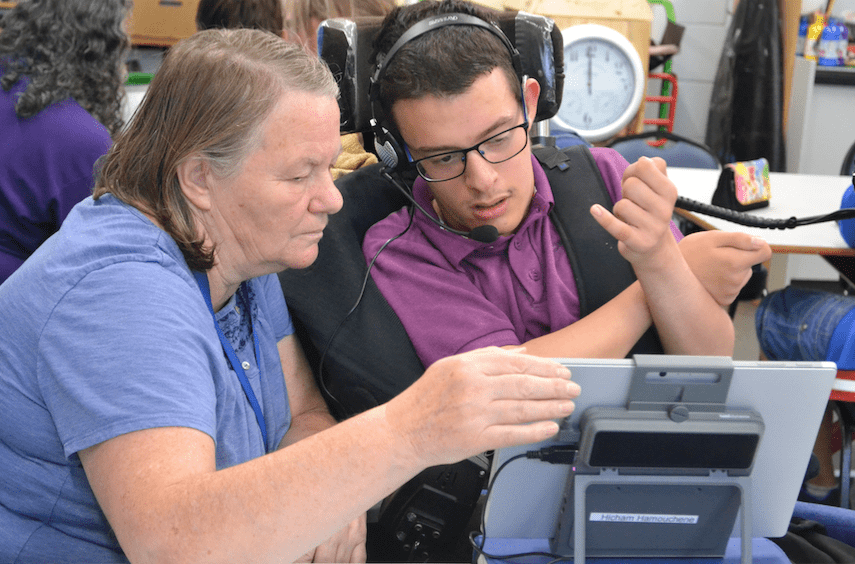 'I like it because it gives me independence.
It allows me to speak to the computer and it follows my instructions'.