Supporting students to achieve their goals as a Specialist Teaching Assistant
I started my role as a specialist teaching assistant in January this year (2023). Prior to this, I had been working in a SEN school in Leeds. Despite there being many similarities and many transferable skills, my role differs from anything I have done previously, and I think in many ways it is a unique role in the education world.
Upskilling students and staff
To summarise, I visit a wide range of schools across London, upskilling and encouraging the use of our CENMAC equipment and software, with those students being provided with assistive technology through our service so that they can access the curriculum and/or communicate. Additionally, I upskill the staff who support said student/s in school, which is equally as important.
Experiencing a range of educational environments
I visit every setting: primary and secondary, mainstream and SEN provision. This has been very beneficial for me, even in the six months I have been working at CENMAC. I intend to complete my teacher training in the near future, and all the experience I am gaining from working in such a wide range of educational environments is beneficial for me developing the breadth and depth of my pedagogy. The more I work with different students, and see how different teachers support their class, helps me understand how I can develop as a teacher.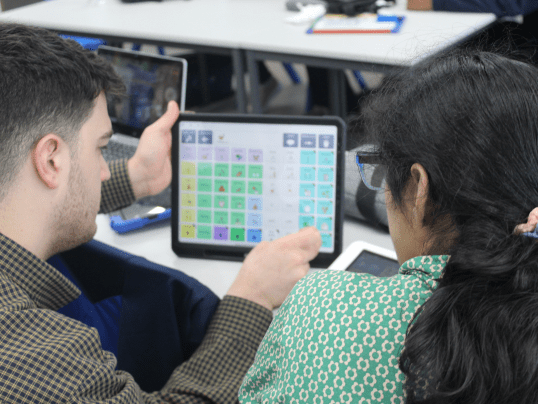 Each student has different needs and goals
Working with so many different students, with such varying needs has been a challenge, and it means I have to stay prepared and on the ball. Much of the assistive software we provide, if not all, I was not aware of before. Each student has different needs and goals.
This means that I am often working day by day on a different software. For example, one day I may be in a school working on WordQSpeakQ (a computer-based literacy software) with a student, and the next day I may be working on SplashMath (computer-based math programme that acts as an accessible maths workbook) with another. It can be a challenge sometimes to stay on top, and make sure I understand all the components of each software.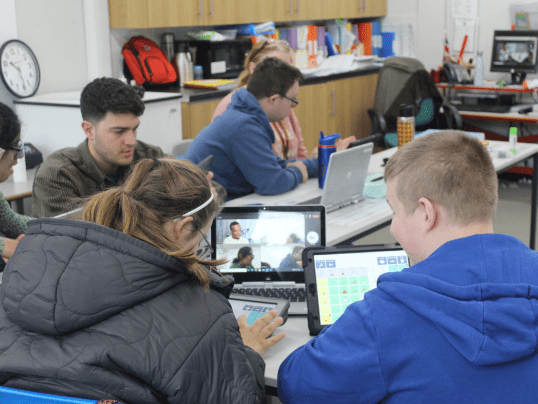 Getting familiar with the technology
The most common software that I work with is Clicker and DocsPlus. These are word processors, similar to Microsoft word, but tailored to support children/young people who encounter issues with their literacy. There are additional support tools and pre-made learning resources. Clicker is the primary version and DocsPlus is for secondary (although these softwares are allocated on current ability and needs rather than age).
Identifying students' targets
As well as assistive technology to access the curriculum, I also go into schools to assist children and their supporting staff on technology and software allocated to support communication. For example, I go into a school every Monday, and work with student A on his target to talk to an unknown in the playground, using his augmentative/alternative communication (AAC) device.
Feeling proud when students achieve their targets
For several weeks we have been modelling a conversation to be had with someone he does not know, in the playground. In this modelling, we practice student A talking to me as if I am someone new, asking me questions, and introducing himself. The aim has been to complete this target by the end of the term, but upon my last visit I was told by his teacher that he had done so in the playground the following week. Seeing how happy the student was hearing his teacher give him praise and knowing that I had played some part in that development, was very meaningful, and I felt very proud of what student A had achieved.
My first six months at CENMAC have been the most diverse and unfamiliar of my working career, but which has led me to learn skills and knowledge I would not have anticipated. The range of assistive technology is growing, and the recognition of accessibility is expanding. To be in a position where I have the space to understand this more, has been both insightful and illuminating. It comes with its challenges, but challenges are good. I feel that I have developed in my practice and learnt a great deal. In turn, I hope this means I can support each student better and help them achieve their very best!
Author: James Dewar-Hassan, CENMAC Specialist Teaching Assistant
Join our Team!
If you like the sound of James' position as a CENMAC Specialist Teaching Assistant, you are in luck as the CENMAC team continues to expand and we are currently recruiting for another Specialist Teaching Assistant. Find out more about the position and apply.