Adaptive Gaming Kit – Logitech G
Supporting staff and students to achieve their full potential since 1968. 
Welcome to our weekly CENMAC blog post. This week we are proud to have a piece written by our friends at Logitech G about the Adaptive Gaming Kit, and how it was developed. In our newsletter this month, look out for your chance to win one of these amazing pieces of assistive technology! 
 
What is the Adaptive Gaming Kit?  
Guest blog, written by Derek Perez (Logitech G) 
In June 2018, Microsoft announced the Xbox Adaptive Controller (XAC) . This controller was a gateway to gaming for those with a wide variety of accessibility needs. During the development process, the Logitech G team was invited to see a prototype, and immediately it clicked that we needed to find a way to support this project and further enable all gamers to play.  
The big opportunity we saw was to address the barriers to entry for the accessories people needed to get the most from their XAC.  For example, the cost of individual buttons can start at £35 each and go up from there, which can quickly become complicated and expensive.  As leaders in the gaming space, we believed our engineering, design and manufacturing teams were uniquely positioned to help solve this problem.  
With a shared vision to bring a greater level of accessibility to all gamers, the team at Logitech G jumped into action to design a product we thought could help.  
In addition to Microsoft, we enlisted the help of a number of partners, including SpecialEffect, Cherry Rae, The Able Gamers Charity and others to help give us feedback and suggestions on a product that would complement the Microsoft offering and truly unlock the potential of the Xbox Adaptive Controller. 
The Logitech G Adaptive Gaming Kit is designed to plug into Microsoft's XAC to unlock a better gaming experience. This kit features a set of buttons, switches and hook and loop pads, that can be easily configured to a wide variety of combinations to allow gamers to play in their own way and in packaging that's easy to open – all for £90.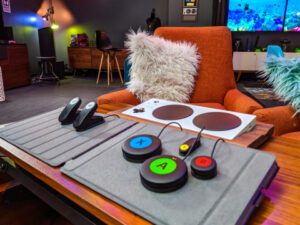 Picture credit: https://www.businesswire.com/news/home/20191118005308/en/Logitech-G-Adaptive-Gaming-Kit-Creates-New-Possibilities-for-Gamers-with-Accessibility-Needs  
Since its inception, the community reacted very positively to the Adaptive Gaming Kit when we launched the product in November. Our campaign on social channels generated just over 500k engagements and over 10.3 million impressions. What was very touching is that the content from one of the influencers we worked with was our most engaging post of 2019 on Instagram. The community loved hearing his story and why the Adaptive Gaming Kit made a difference for them. 
The Adaptive Gaming Kit was also recognized by the industry, being named one of Time Magazine's 100 Best Inventions and won Fast Company's 2020 Innovation by Design Award for Product, to name a few.  
We continued to look for new opportunities to meet the needs of gamers with limited mobility, and in 2020 and 2021 The AbleGamers Charity, Adaptive Action Sports, Beyond Entertainment, Challonge, Mount Sinai, and Logitech G, came together for the Logitech G Adaptive Esports Invitational, a private, invite-only esports tournament specifically designed for gamers with disabilities.  The virtual 2v2 Rocket League tournament featured six invited teams squaring off in a single elimination bracket for gear prizing. 
Prior to this event, esports competitions for people with accessibility needs haven't existed, even though gaming is popular within the community. Because the event was so successful and well received by our community of invitees, we're excited to open this first-of-its-kind esports competition to the public in select regions in 2022.  
Now is the time to evolve the gaming industry into an inclusive, diverse community and we look forward to continuing this development in bringing a better experience to gamers everywhere.  After all, it's our fundamental belief that Life is More Fun when you Play, and we think that means everyone.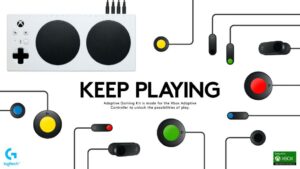 Huge thanks again to the Logitech G team for the generous donation of an Adaptive Gaming Kit for one of our lucky readers.  
Don't forget you can share your CENMAC experiences for our CENMAC family to enjoy. 
AssistiveTechnology, Education, Mainstream, SEN, Homeschooling, CENMAC, Technology, Support, Solutions, Gaming, AdaptiveGaming, Diverse, Community, Gamers