Reading is magic, and magic is for everyone
Supporting staff and students to achieve their full potential since 1968.
---
Welcome to our weekly CENMAC blog post.  
Reading is magic, and magic is for everyone  | by Mary Long, CENMAC Advisory Teacher.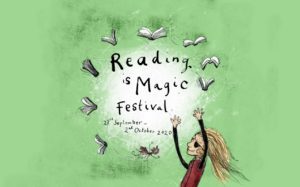 As we continue on wards into the new normality of online events and digital content, we are discovering a wealth of new resources at our fingertips. While these electronic experiences can't ever replace real-life occasions, they are becoming more acceptable and increasingly enjoyable. 
One upcoming happening that the CENMAC team are excited about is the 'Reading is Magic Festival', taking place online between 27 September and 2 October. This is billed as 'a world of creativity … Six days of free, inclusive and engaging digital events for schools and families.'  
Created and curated by Bath Festivals, following the cancellation of the 2020 Bath Children's Literature Festival due to COVID-19, this is a collaboration of book festivals from around the UK and will have some incredible and inspiring content freely available for all. The festival name was taken from Waterstones Children's Laureate 2019-2022 Cressida Cowell's key message 'reading is magic, and magic is for everyone'.  
Cressida Cowell leads a host of renowned authors in a variety of special activities over the week including: 
---
We know, from many, many studies, how important reading for the joy of it is (the joy is vital)
---
Cressida is well known for her popular children's series How to Train Your Dragon and the fourth book in her latest series for more advanced readers The Wizards of Once is out now. Her planned bookstore tour has also been taken online, and tickets for the last few events are available here. At the start of the COVID-19 pandemic, Cressida responded by working with BookTrust to launch an online hub of activities and resources for families. BookTrust Home Time includes free online books, videos, games, recipes, competitions, quizzes and other activities to keep families and children entertained at home.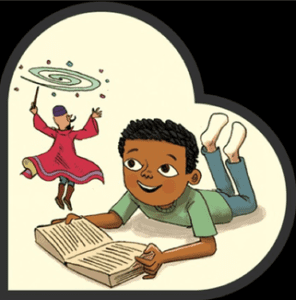 Cressida sent a personal message to CENMAC on the importance of making reading accessible for all: 
'My Laureate launch speech was titled, 'Reading is Magic, and Magic is for Everyone'. We know, from many, many studies, how important reading for the joy of it is (the joy is vital) not only for academic achievement, but for mental health. I want every single child in this country to have access to books in the best way for them. I'm delighted that the organisers of Bath Festival have joined with other festivals to create the Reading is Magic festival, based on my Children's Laureate Charter – the line-up is wonderful, do join in!'
For many students, having those choices about how they access books
and hearing books read aloud by others, including other children and young people, is a fundamental step in developing a lifelong love of reading. Kidsread2kids is a website designed by dyslexic and ADHD siblings to bring joy and confidence back to those struggling to read.  
As Autumn arrives and we move towards cosy evenings indoors, we hope you find some attention-grabbing books to share. Do send pictures and comments to your CENMAC link if you take part in any of the activities mentioned. 
---
Don't forget you can share your CENMAC experiences for our CENMAC family to enjoy. 
---
#AssistiveTechnology #Education #Mainstream #SEN #Homeschooling #CENMAC #Technology #Support #Solutions #Reading #ReadingisMagic #Literacy