World Autism Awareness Week
Supporting staff and students to achieve their full potential since 1968.
---
Welcome to our weekly CENMAC blog post
World Autism Awareness Week 29 March – 4 April 2021  | by Mary Long and David Howard, CENMAC Advisory Teachers
Why your help is more important than ever
(c) www.autism.org.uk
The coronavirus pandemic has been particularly tough for many autistic people and their families. Services have closed and many people have been left stranded. The ever-changing guidelines and restrictions can be confusing to understand and extremely difficult to implement for autistic people with high support needs.  
Could you make it to the end? What is it like to be Autistic? 
---

There is still so much to do and we desperately need your help to continue this vital work.  
---
Thanks to our supporters, we've been able to campaign to ensure autistic people's needs are considered by governments across the UK in these challenging times. Autistic people have been included in mask exemptions and have been given more opportunities to exercise.  
We've developed online resources for autistic people and increased the number of online social groups we run. There is still so much to do and we desperately need your help to continue this vital work.  
Sign up and help create a society that works for autistic people. When you submit the form, you will shortly receive an email directing you to the main World Autism Awareness Week website area. This is where you will find any updated fundraising information, including fundraising inspiration and how to pay in your funds. By signing up for World Autism Awareness Week you will also receive emails with our fundraising top tips. 
Receive our fundraising tips and updates for World Autism Awareness Week 2021, as well as information by email about the event in future years by filling out the form below.  
www.autism.org.uk/get-involved/raise-money/world-autism-awareness-week/community-and-workplace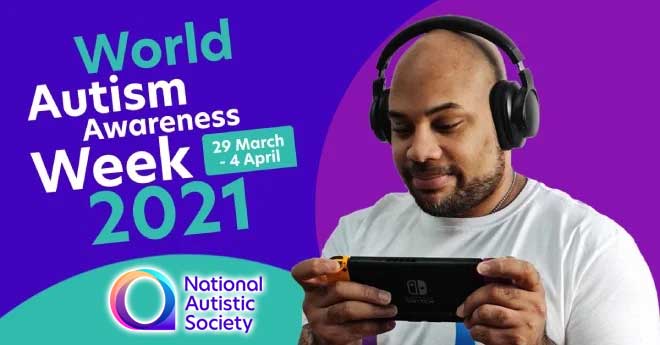 ---

Never be ashamed of being different: it is this difference that makes you extraordinary and unique.
---
A Spectrum Girl's Survival Guide 
Siena Castellon, an 18-year-old neurodiversity advocate and campaigner sent us this information about her books (which have been highly recommended by the family of one of our CENMAC students): 'Never be ashamed of being different: it is this difference that makes you extraordinary and unique.'
This essential go-to guide gives you all the advice and tools you'll need to help you flourish and achieve what you want in life. From the answers to everyday questions such as 'Am I using appropriate body language?' and 'Did I say the wrong thing?', through to discussing the importance of understanding your emotions, looking after your physical and mental health and coping with anxiety and sensory overloads, award-winning neurodiversity campaigner Siena Castellon uses her own experiences to provide you with the skills to overcome any challenge. 
With practical tips on friendships, dating, body image, consent and appearance, as well as how to survive school and bullying, The Spectrum Girl's Survival Guide gives you the power to embrace who you are, reminding you that even during the toughest of teen moments, you are never alone. 
---
The Spectrum Girl's Survival Toolkit is an essential and practical workbook with a wealth of information, strategies, and resources for young women with autism." – Dr. Tony Lloyd, CEO, ADHD Foundation
---
A companion to the bestseller The Spectrum Girl's Survival Guide, this essential toolkit workbook for teen autistic girls gives you the coping strategies needed to overcome the challenges that may be holding you back. 
Using clinically proven techniques like mindfulness, acceptance, and cognitive behavioural therapy (CBT), autistic award-winning neurodiversity campaigner Siena Castellon shares her experiences, strategies, and tools to help you thrive at home, at school, and beyond.  
This friendly workbook is filled with autism-focused practical advice and interactive exercises on managing social anxiety, sensory overloads, making and maintaining friendships, and much more. In this fun and engaging workbook, you'll find: 
More than 100 different exercises and activities – You'll learn how to succeed in school, reframe negative thoughts, safeguard your mental health, and practice self-care.
How to tap into the power of your character strengths to become the best version of yourself – You'll be encouraged to take charge of your life by building your confidence, recognising your many strengths, thinking more positively, setting goals, and investing in your future and much more!  
Throughout this relatable book, Siena shares her struggles and victories of being autistic to remind you that you are not alone and that you're awesome and autistic.  
---
Don't forget you can share your CENMAC experiences for our CENMAC family to enjoy. Plus, sign up for our newsletter to read more about assistive technology.
---