Exploring Google Accessibility
CENMAC supports many children and young people across the Greater London area to access the curriculum and or to communicate with a wide range of assistive technologies. So, it's important for our multi-disciplinary team of Advisory Teachers, SALTs, Specialist Tas and OTs to keep up-to-date with the latest innovations in technology, so we can provide our students with technology designed to support their individual needs. A piece of assistive technology that works for one student might not be suitable for another.
This week our team visited the Google Accessibility Discovery Centre to find out more about what they are doing.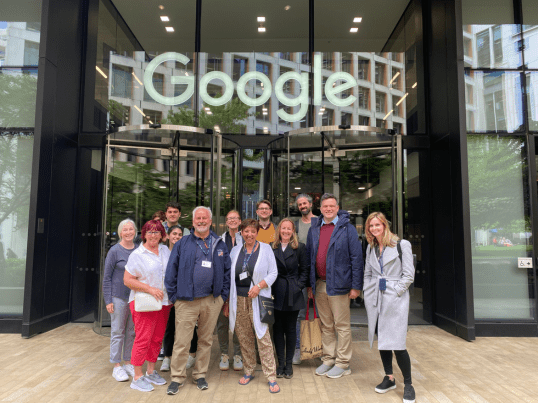 Here's what some of our CENMAC team members had to say about the visit:
Mary Long, Deputy Team Leader
I thoroughly enjoyed our visit to the Google Accessibility Discovery Centre. The main takeaway message for me was that accessibility should be for everyone and by everyone. It was impressive to see Apple and Microsoft products on show (I was expecting to see and hear predominantly about Google products), as well as other items that we have available at CENMAC HQ, such as accessible gaming kits and the Sunu navigation device. It was also interesting to hear that accessibility at Google is not merely about the final product but about the process of getting there. For example, if something is not accessible, then knowing how to work through the process to make it more so, is vital.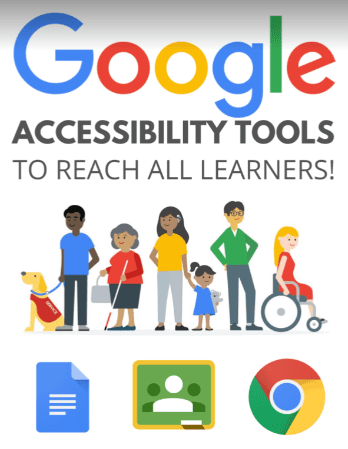 Wayne McCullough, Advisory Teacher
I have to say I was amazed at all the technologies and features Google is using to make things more accessible. Within their Pixel phone, they have a built-in screen reader which reads aloud items on screen, a magnifier to make items bigger, and a feature called Select to Speak, which allows you to hear selected text.
Within Google, there is a development lab where they integrate different pieces of equipment to support users with a range of different needs, from using switches, to playing a game, to using LED lights to alert people when a particular sound is heard.
It was great to see the range of accessible features which are available, and I am looking forward to seeing the new features being released in the coming months.
Maureen De Longhi, Advisory Teacher
I loved our tour of the Google Accessibility Discovery Centre. Chris, our guide, was incredibly passionate and enthusiastic about what he was showing us and didn't bamboozle us with 'Techy speak'!
What I particularly liked was the fact that he showed us not just what the tech could do, but also examples of how it could be used in real life and educational scenarios, thereby giving us instant ideas of how we can use the tech with our students.
One example of this was a superb voice recognition app called Live Transcribe which works in several different languages which I will use immediately with a number of my students who have English as an Additional language, to help them to be able to take instant notes in their own languages to support their learning.
Charlie Danger, Occupational Therapy Consultant
Google's Accessibility Discovery Centre is a large, comfortable space that's very "Googly" by my understanding (comfy chairs, real wood and colourful knick-knacks). It's primarily a space to exhibit Google's ever-improving accessibility improvements, plus accessible devices from other companies including Microsoft, and a little surprisingly, Apple. I was pleased to see a collaboration with Everyone Can (The UK's "other" accessible gaming charity). The space also contains a small lab for testing products. Christopher Patnoe provided the tour and gave a very good explanation to Google's position regarding accessibility, and the great efforts they are going to make improvements for existing products, in addition to creating snazzy new innovations that'll continue to make the world better for everyone.
James Dewar-Hassan, Specialist Teaching Assistant
I really enjoyed my trip to the Google offices in Kings cross, where we were treated to the accessibility discovery centre (ADC) Tour. Christopher Patnoe, the Senior Programme Manager at the ADC, gave us a guided tour through the offices, and showed us how he and his team have embraced and pushed for the development of a plethora of different technologies and software's, in the aim of making all facets of Google's delivery and output, more accessible for every individual. From real time closed captions for the people with visual impairment being available on new Google computers, to their support of independent gaming business' that aim to make the process of individualised support more enjoyable, Christopher's tour was intriguing and enlightening!
David Howard, Advisory Teacher
I thoroughly enjoyed my visit to Googles ADC, Christopher our host, demonstrated some of the accessibility tools that are built into google and gave us some indications of the work they are doing to further support users with disabilities. I was particularly interested in the accessible gaming and the use of transcription and live captioning.