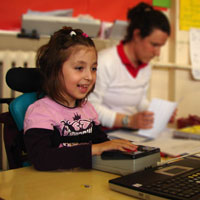 Mainstream Primary School
Ayesha attends a mainstream primary school which has a resource base for pupils with complex needs.  She has cerebral palsy and a visual impairment.
Following a CENMAC assessment in 2006 she was lent a laptop computer, trackerball and Big Keys keyboard from the CENMAC loan library. Since then she has acquired a CCTV camera (from the Visual Impairment service) which plugs into the laptop and allows her to both enlarge text from books and see what is happening on the other side of the classroom. She has also learned to use the keys on the laptop and to use a mouse so no longer needs either the trackerball or the keyboard.
She uses 'Clicker 5' and Microsoft 'Word'.  Both Ayesha and the staff supporting her have received training in both 'Clicker 4' and 'Clicker 5'