Larger cursors are downloadable from the Internet and can be installed on any PC computer. Good sources are:
To install your cursors in Windows XP
Download the cursors and install them following the instructions on the site you chose. They will either install straight to the 'Cursors' folder or will put an installation icon on your desktop or elsewhere on your hard disc.  If that happens, double click on the installation icon and follow the instructions.
To put a larger cursor on your desktop, go to:
Start > Control Panel > Printers and Other Hardware > Mouse.
This opens the Mouse Properties dialogue box.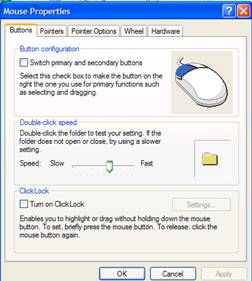 Click on the Pointers tab.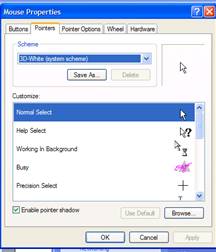 Click on Browse and use the dialogue box at the top to scroll for the one you want.  Click on this and then on Open.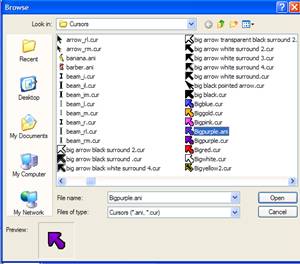 This will give you a preview of the one you have chosen.  Click on Apply to put your new cursor on screen.
2008