This allows you to use predictive text alongside the onscreen Clicker keyboard.  You must have both programmes installed on your computer.
Open Clicker 4
Click on Clicker Explorer > Clicker 4 Examples > Keyboard > Predict
This opens an alphabetical keyboard with prediction window attached.  Your computer will automatically open Penfriend at the same time.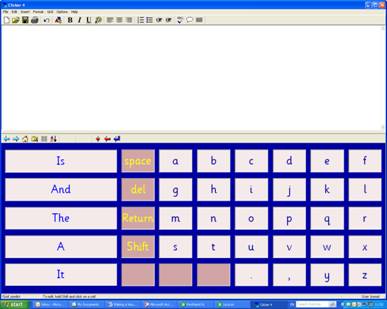 Start using the grid by clicking on letters to write into Clicker Writer.  Predicted words will come up as soon as you start using it.  You can select the word by clicking on it directly.
Close down each programme at the end of the session. 
To check the lexicon in Penfriend
Open Penfriend
Click on View > Lexicon > Show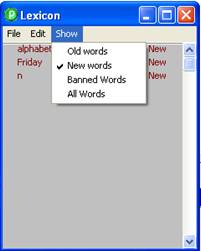 This allows you to say whether you want to see new words, old words, banned words or all words.  If only new words is ticked, then the dialogue box will show you anything that has been added since you last check.  You can delete any of these that are not spelled correctly.
2003/2008