Cosmo switches and iPad app by Ewa Bukowska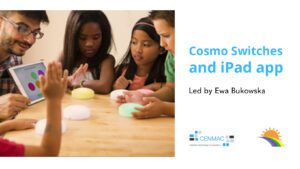 Date of recording: Thursday 17 Nov 2022 (30 mins)
Ewa is an education practitioner focusing on technology adoption to support the daily lives and education of neurodiverse children and young people.
During the session, Ewa showcases Cosmo, an inclusive technology system supporting the development of a variety of physical, cognitive and communication skills.
Cosmo is combined of interactive controllers called Cosmoids, which can be used to play a range of Cosmo Games available in a free iPad app and as external accessibility switches to navigate through third-party apps and devices.