Guide Dogs Digital Learning Resources for Everyone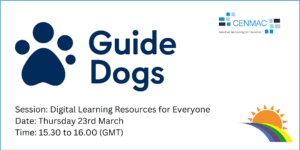 Recorded: Thu, 23 Mar 2023
Kerry Kernan from Guide Dogs talks about their 'Tech for All programme' and the wide range of services they provide for children and young people with a vision impairment.
She shares their commitment to support the accessibility of technology to children and young people with sight loss, including their digital learning programme and plans to build more content over time.
These fantastic resources are available on the Guide Dogs website, and free to access for all – children, parents, teachers – in fact, anyone with an interest in how to get the most from their devices.