My name is Toby and I'm 10 years old. I have cerebral palsy, so my arms and legs do not work properly, but once a year I try and undertake a charity challenge to help people less fortunate than me. Having previously done sponsored swims and triathlons, this Summer I decided to take on the ultimate challenge: I tried to walk up Snowdon even though I cannot walk as well as others.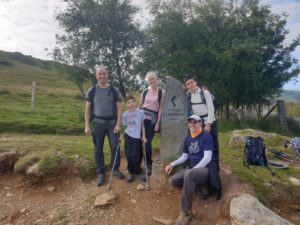 With my trusty sticks and my family, I set off up the 7.2km Llanberis path to reach the top of Snowdon. This was the hardest thing I have ever done – the furthest I had previously walked was 5km and that wasn't all uphill! About two thirds of the way up our mountain guide said he didn't think we had time to reach the summit (because we had to plan on getting down again in daylight) but I dug deep and ploughed on.
I made it! It took me five and a half hours and it was extremely tiring, but I reached the top! Unfortunately, thick clouds had descended, and I couldn't see the amazing views of Wales but maybe next time…I believe that if you plan and practise, you can do anything. I'm not sure what challenge to try next, but I will give it my all.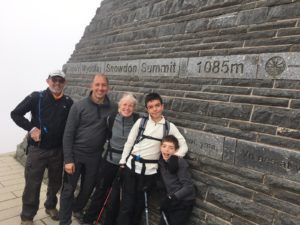 I was lucky to have lots of wishes of support as I climbed the mountain, not just from my family and friends (Whatsapp works on Snowdon!), but from other climbers, including a group of firemen from Manchester Airport.
I raised over £3,000 for two charities – Level Water who help disabled children learn how to swim; and Hope 4 Malawi who have used my donation to build and stock a library at a school which is being built by the charity in this very poor African nation.