Children's Mental Health Week (6 to 12 February 2023)
This year's theme is Let's Connect and will encourage children, young people and adults to look at how we can make meaningful connections. Being and feeling part of a community and having connections to others is vital for wellbeing and mental health.
When we have healthy connections (family, friends and school community) this can support our mental health and sense of wellbeing. Without these connections we might feel isolated and lonely which can have a negative impact on our mental health.
Everyone is encouraged to connect with others in health, rewarding and meaningful ways.
Watch the video to learn more about the theme.
Class activities:
Building Safe And Healthy Relationships
Coping With Disconnection And Difference
Widgit resources to support children and young people's mental health
Widgit has created a great Wellbeing Pack of symbol-supported books and activites to support children's wellbeing. The pack was produced in partnership with Dr Jerricah Holder, Educational Psychologist, and contains symbolised books and activities to support children's understanding of wellbeing and self-care.
Urgent Mental Health Support
– 24/7 Crisis Support
Every mental health trust in London has put in place a 24/7 crisis line for people of all ages – children, young people and adults. The lines which are free to call can provide advice to those in a crisis. These crisis lines are supported by trained mental health advisors 365 days a year. You can find the 24/7 crisis line numbers using the NHS Service Finder (link below) but the table provides all of the telephone numbers in London.  www.nhs.uk/service-search/mentalhealth/find-an-urgent-mental-health-helpline
---
Download the table below:
Urgent Mental Health Support For Children Young People And Families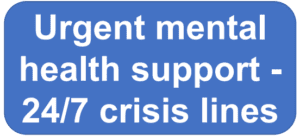 Partnership for Children
Partnership for Children is an independent charity which promotes the mental health and emotional wellbeing of children, both in the UK and in many countries around the world. We produce mental health promotion programmes for primary schools that teach children skills for life: how to cope with everyday difficulties, how to communicate with and get on with other people, and build self-awareness and emotional resilience.
Zippy's Friends and Apple's Friends programmes have been independently evaluated and found to improve children's coping skills, social skills, emotional literacy and reduce bullying. There is also an adapted version of Zippy's Friends for pupils with SEND.
If you are interested in delivering Zippy's Friends or Apple's Friends to your class, please visit Partnership for Children's website for more information about training courses for teachers. Our website also has free downloadable resources to help children talk about feelings and cope with difficult situations.