Communication Works 2024 #CW2024
SAVE THE DATES!
South Event:
Thursday, 6 June 2024
Venue: Charlton Athletic Football Club
North Stand, The Valley, Floyd Road, London SE7 8B
North Event:
Thursday, 23 May 2024
Venue: New Bridge Academy
Roman Road, Failsworth, Oldham, Greater Manchester, OL8 3PH
About the event
We are delighted to be partnering with Ace Centre to host Communication Works 2024.
Communication Works (#CW2024) is a free event giving visitors the opportunity to see a range of assistive and accessible technology, communication tools, digital strategies and person-centred approaches first-hand.
It is an opportunity for our CENMAC students to demonstrate how they access the curriculum and/or communicate using assistive technology and the achievements they have made.
Who should attend?
School and health SEND teams including teachers, SENCOs, teaching assistants, speech and language therapists, occupational therapists, QTVIs, educational psychologists, parents and carers, AAC and AT users.
Visitor Feedback
"In university, AAC was always very theoretical and I think many SLTs find themselves looking for *more*. More knowledge of our role within AAC, more understanding of how it develops and more people using it beyond requesting "Bubbles". The CENMAC AAC Seminar left me emotional and passionately fueled as a large variety of AAC was seen and used as a primary, comprehensive communication means. The field and technologies are fast developing and it was exciting to feel inspired to be a part of that and ultimately, listening to voices of wonderful people that may not have otherwise been heard." Jenna Nunes, Speech & Language Therapist
Communication Works 2023 Photos and Videos
We had a great day at Communication Works 2023 (South) on Thursday 18th May 2023! To find out what you can expect at Communication Works 2024 take a look at the photos, videos and more about the exhibitors who joined us.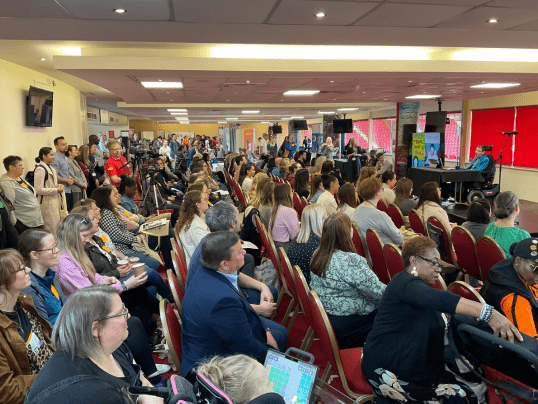 Image: Visitors at Communication Works 2023 listening to the keynote speeches.